Now in its twelfth year, The Harrogate Antique Fair is firmly established as an important event in the world of antiques. The reputation of this autumn show has attracted dealers, collectors and decorators both from here and abroad. The success of last year's Fair proved the solid attraction of antiques as an investment in an uncertain world.
The Harrogate Antique Fair will run this year from 30th September to 4th October at the Harrogate International Centre and will once more be held in Hall 'M' with its magnificent entrance and prominent position.
Visitors will again be able to view a fabulous array of antiques and fine art and enjoy superb food at the excellent restaurant. Among the dealers you will find regulars such as Anthemion from Cartmel and Licht and Morrison of London with the finest of jewellery.
Also showing will be the MacConnal-Mason Gallery of London, Walker Galleries of Harrogate, Laura Bordignon, J H Bourdon Smith Ltd and Garth Vincent Antique Arms and Armour. Returning to the Fair after successful debuts last year are Hancocks Jewellers, who have dealt in rare and collectible jewels since 1849, and Marris Antiques, specialising in antique glass.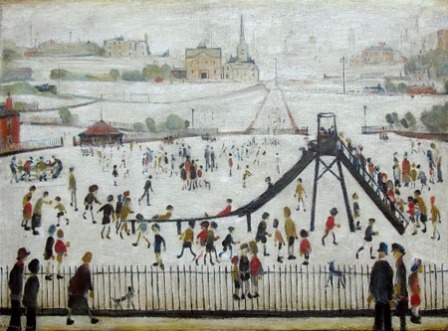 'The Playground' by LS Lowry – for sale at the show for £1million
New to the autumn fair are Elford Fine Art from Tavistock, specialising in oil paintings, watercolours and drawings from the 18th century to the present day; Mark J West with 18th, 19th and early 20th century English and continental glass and Mark Buckley Antiques from Skipton with specialist Edwardian and Victorian inlaid furniture.
Northern dealers include the early oak dealer Elaine Phillips from Harrogate and Walker Galleries who will be showing a range of 19th century art and specialise in Yorkshire artists.
Another local gallery is Sutcliffe Galleries, whose director, Helen Sutcliffe, is the northern representative of the British Antique Dealers' Association, who was involved in the original inspiration for this event.
Back again this year are Howards Jewellers from Stratford on Avon, Mary Cooke and Jack Shaw and Co with fine silver, and Garret and Hurst of Sussex, who specialise in 19th century sculptures.
Early English watercolours are represented by Maurice Edward-Dear, while Burlington Paintings will be showing their fine 19th and 20th century English and European paintings. S&S Timms from Bedforshire will be returning with fine town and country furniture and Gazelles of Lyndhurst will be back with their Art Deco furniture and ceramics.
The aim of the Fair is to maintain the highest standards while remaining a friendly and informative experience for both exhibitors and visitors. It sets out to provide a unique forum where like-minded people can discuss and purchase fine art and antiques.
The Fair will be raising funds for Acorn once more and its social highlight will be a Gala Charity Reception on Friday 30th September which will be jointly hosted by Acorn and The Harrogate Antique Fair.
The event, which runs from 6.30pm to 9.30pm, marks the official opening of the Fair by actress Genevieve Barr. Genevieve is from Harrogate and star of critically acclaimed BBC1 drama "The Silence". She has been nominated for a number of best actress awards.
The show will be open at the following times:
Friday 30th September: 2.00pm – 9.00pm Sat October1st & Sun October 2nd: 11.00am – 6.00pm
Monday 3rd October: 11.00am – 8.00pm Tuesday 4th October: 11.00am – 5.00pm