Andy Johnston and his company FD Training from Summerbridge have been part of the crew working on the set filming DCI Banks that airs this evening (16th Sept). FD Training provided the medic and specialist diving support to the film crews.
The main characters are played by Stephen Tompkinson who plays the tenacious and stubborn detective Chief Inspector Alan Banks and the feisty and headstrong DS Annie Cabbot played by Andrea Lowe in this brand new six-part series of DCI Banks.
Three stories are each told over two episodes and have been adapted from Peter Robinson's novels; Playing with Fire, Friend of the Devil and Cold as the Grave.
Andy Johnston of FD Training (in yellow jacket) with the dive team on the DCI Banks set
FD Training provide specialist diver training, medic support and are often asked to put a dive-team together to support TV and Film work.
Some of the scenes in tonight's episode involved filming by open water and FD Training ensured the safety of the actors and many support staff working alongside. The episode shows a corpse rise to the surface of a canal and that proved tricky to get the shot that the Director wanted.
Andy said:
I haven't seen any of the final footage yet and I am looking forward to seeing it air tonight for the first time.

Working on tonight's episode had many challenges as we were  by a Canal and with a dummy that the Director needed to rise out of the water. We had to develop a rig that allowed the dummy to float to the surface and remain level. It took many takes to get the shots that the Director needed.

I can't give away anything about the storyline but if you liked the first series of DCI Burns then you are going to like this one.

The prosthetics make-up team had done some pretty amazing work and certainly gained a lot of attention from passers by.
Andy Johnston with Stephen Tompkinson
Andy added:
It's always great to be asked to support TV work as it always creates a few challenges and you get to see so many new places.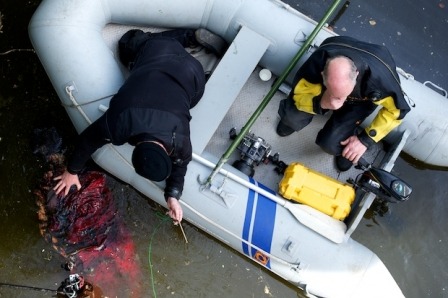 The dive team position the fake corpse
Filming took place at various locations including this section of canal part way between Leeds and Bradford. Water samples had been taken and advice was given to take caution due to the toxicity of the water.
The amazing prosthetic work by the make-up team
The first episode airs tonight (16th Sept) at 9pm on ITV and will be available on ITV iplayer
Further images are on our Facebook Page