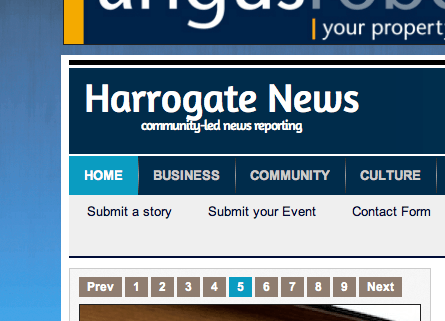 Harrogate News has become the highest ranking news website in the Harrogate area just ten months after launching.
Web traffic figures from analytics specialist Alexa currently rank the site as Harrogate's most visited online news source based on three months of aggregated historical traffic, combining measures of data on page views and users.
The site is also the only news website in the town to have passed the stringent Google News acceptance criteria, giving it equal prominence in search rankings as many national news sites.
Tim Cook, the entrepreneur behind the venture, said the site now attracts as many as 6000 visitors a day:
Knowing that on some days the website attracts a visitor every few seconds is incredible and something I could never have imagined achieving when I launched Harrogate News in January.

I am also amazed at how far away some of our readers live – we even have a reader from the Christmas Islands.

What started as a community news sharing site has quickly become a trusted and well known channel of information for the people of Harrogate and the surrounding area.

I'd like to thank everyone in the town who has supported me so far and hope they will continue to do so and spread the word to friends and neighbours so that we can share even more information about events, news and community issues.

The fact that our news is linked to Facebook and Twitter makes it even easier to pass on information about what's happening in Harrogate, as it happens.

Our success means we are now being approached by businesses who are interested in advertising with us and we have responded to this by including advertising space on our site.

I hope that as more advertisers come on board it will enable us to improve and expand Harrogate News even further.

There are exciting times ahead as we continue to work even more with the community.