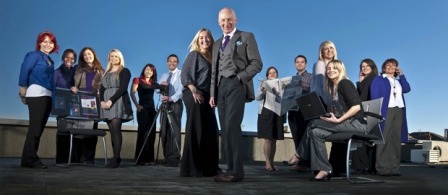 Acceleris Marketing Communications has been shortlisted as a finalist in three categories in the prestigious CIPR PRide Awards for Yorkshire and Lincolnshire.
The agency, which won the Outstanding Public Relations Consultancy at the 2010 CIPR awards, has been shortlisted in the Consumer Relations and Best Use of Media Relations categories this year for its work on launching the Kirstie Allsopp and Phil Spencer 'House Hunter' app for BBC Worldwide. It has also been shortlisted as a finalist in the Public Sector category for its work in devising and managing a highly successful, national awards programme for the National Federation of ALMOs whose 60 member organisations manage almost 1 million council houses around England.
The 'House Hunter' app launched on 29th June 2011. Over 22 radio and television interviews including ITV's 'Loose Women', Sky News, BBC Radio Scotland, BRMB and Magic FM were conducted on launch day reaching 2 million UK residents. In the three weeks after launch 177 pieces of press coverage were secured including articles in The Daily Express, The Daily Mail, The Telegraph and The Independent.
Acceleris has been delivering the NFA Awards annually since they were devised by the agency in 2007 for its client the NFA as a way of recognising and celebrating the initiative of individuals and groups working to improve life on estates around the country. To date nearly one thousand entries have been submitted, the awards have been praised by Government ministers and Acceleris has raised more than £200,000 in sponsorship to fund the programme.
Since it was launched in December 2006, Harrogate-based Acceleris has generated more than £5 million in revenues, is ranked within the top four of regional agencies by fee income alongside much longer established businesses in the recently published Yorkshire Business Insider magazine's PR agencies league table and has established a client base of major national organisations in both the public and private sectors.
Managing Director Peter Davenport (pictured right) said:
There is some excellent work being produced by agencies within the region so it is pleasing to have our campaigns shortlisted in these prestigious awards. I believe these nominations reflect the diversity and high quality of our national client base, the creativity and success of our campaigns and the energy and commitment of a bunch of very talented people who make Acceleris the agency it is.
The 2011 Chartered Institute of Public Relations PRide Awards for Yorkshire and Lincolnshire will announce the winners of the categories at a ceremony on 17th November at the Queens Hotel in Leeds.