Tesco's application for a new supermarket on Skipton Road will be heard by Harrogate Borough Council on 6th September. It is being recommended for approval and the application will be heard by councillors who sit on the Development Control committee.
Residents in Harrogate have shown support for a new Tesco store in New Park. Tesco's public consultations showed over 70% in favour of the application, whilst letters on file at Harrogate Borough Council planning department show support outweighs objections by over 2:1.
To read the full reports being discussed at this meeting then use the links below:
These reports are in Adobe format and please allow time for them to load.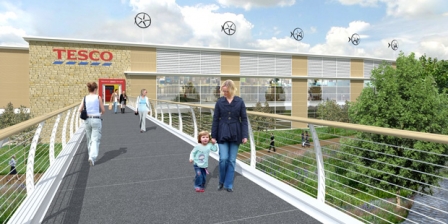 Artistic impression of how the new Store will look
Local resident Raymond Kidd spoke of his desire to see the store built:
It'll be great to have a modern supermarket in our area. We see the adverts for Tesco in the paper but aren't able to go there as there isn't one nearby. It's also good that people around Jennyfields, and out in Killinghall, won't have to travel through the centre of town to get to a supermarket, which will help with congestion.
Beverley Garnett, of Jennyfields, said
The site has been an eyesore for years and we want to see it cleaned up. I'll also be able to get my shopping in the neighbourhood rather than driving across Harrogate. We're really looking forward to shopping there.
Tesco corporate affairs spokesman Matthew Magee commented:
We're pleased to be at planning committee with a recommendation for approval. It's been obvious all along that residents in Harrogate want this new store. Over 220 people have written to the council in support of our application.

We've worked hard to get the application absolutely right and it's been a long process, but we're pleased to be at this stage and are hopeful that Councillors will approve the application.

Although there has been some concern over traffic around the store, Highways officers at both Harrogate Borough Council and North Yorkshire County Council concluded that there would be no significant traffic issues around the store, and that traffic flow across the Harrogate road network would improve, as residents travel less far to get to a supermarket.

The road improvements we're making to both Ripon Road and Skipton road mean that traffic will be able to get in and out of the store easily, whilst for commuters there won't be any significant delays in passing the site. Importantly there will be fewer cars on the wider road network as residents in North Harrogate will be able to shop on their doorstep rather than traveling across town.
If you want to add comments then post them in the discussion forum