A farm that has abandoned modern agriculture to return to horse and plough will give visitors an insight into the work of the Shire horse this weekend.
Thorpe Hill Open Working Farm, near Whixley, will be running demonstrations throughout the Bank Holiday weekend to show how the horses will be used to work the land.
The farm's journey back in time began in June when farmer Steve Newlove auctioned off his modern farm machinery to make way for two pedigree Shire horses.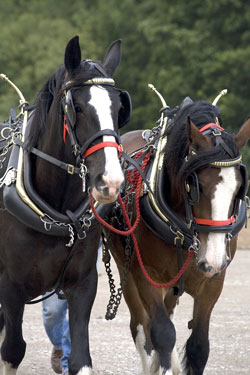 Since then visitors to the project have been able to see the horses in the field but haven't yet watched them at work.
Steve explained:
Visitors often ask us why the horses aren't working in the fields but at this time of year there's very little cultivation that needs to be done, it's too early for the horses to be harvesting so we decided to put on a special event that gives people an idea of how the horses will work for us.
Farrier James Morton will lead the demonstrations which will include harnessing the horses and using them to move items around the farm.
Steve said the farm had laid on extra activities for children including mask making and face painting.
We've also recently expanded one of our most popular areas, the pet's corner, where we now have a growing collection of reptiles.
The farm, which also features a children's play area, café and maize maze, opens daily from 10am to 7pm. For further information visit www.thorpehillfarm.co.uk
Whixley is located just off the A59 between Harrogate and York.