A Harrogate-based cleaning company's future is looking "sparkling bright" after securing another major contract to clean 35 properties across the district.
Started just under two years ago by former sales consultant Colin Shute, Sparkling Bright now employs a workforce of 23 and operates all over the Yorkshire region.
The 23-year-old got the inspiration to start the business after sitting in a former employer's office and watching its contract cleaners at work. Not doing a particularly competent job, Colin decided he could offer clients a better service. There and then he decided to take the bold step to launch his own venture.
Sparking Bright services clients across almost every sector – including nightclubs, factories, offices, pubs, supermarket food manufacturers and four and five star luxury serviced apartments – offering a range of services from contract cleaning, grounds maintenance, next day janitorial supplies and high-level cleaning to computer equipment cleaning and one off cleaning commissions.
In addition, Sparkling Bright has just been appointed by a leading short-term lettings agent to clean more than 30 of its apartments and houses.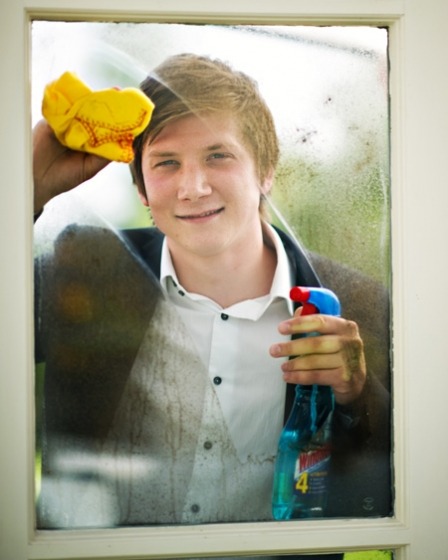 The Future's Sparkling Bright! Colin Shute, MD of Harrogate-based Sparkling Bright.
(Picture by Keith Hartwell)
Colin said:
The contract with the short-term lettings agent is a significant achievement for us and introduces us to a new set of clients.

Two years ago Sparkling Bright was just me. Now I employ 23 members of staff and we work all over the Yorkshire region. My initial goal was to build a successful business known for providing a top class service, while remaining competitively priced – and that is what I'm still concentrating on!
He added:
Cleaning is a very competitive market to be in, but one that we are beginning to make our mark in. As a business we are learning and evolving all the time; there is always scope for improvement.

We are different to many companies in that all the staff are employed by me and not just hired from agencies. We work as a team and deliver truly fantastic results for our clients.

At the moment we are happy just to focus all our attentions on commercial clients and the significant opportunities to be seized from this sector. We are constantly looking to expand our network of clients and we hope to do so locally, delivering top quality, great value services to local businesses.