Over 100 young musicians from North Yorkshire and York schools have been coached to achieve at their highest level as part of the annual band and orchestral summer school run by North Yorkshire County Council's Music Service.
The courses enable gifted and talented musicians to perform at the top of their ability level and provide the opportunity for young people to work with renowned professional musicians. This year's concerts held at Harrogate Ladies College were proof of exceptional achievement.
The Big Band and Wind Band were joined by distinguished saxophonist Prof. Simon Bates. He has appeared live and recorded with a wide variety of artists including Elvis Costello, Rick Astley, Lulu, Billy Ocean, Rick Wakeman, Dizzee Rascal, Chaka Khan, Emma Bunton, Seal and Bette Midler. Simon performed with the bands and held a workshop on improvisation. The bands, conducted by Christopher Hirst, Ralph Alder and Bob Butterfield performed a variety of music from classical to funk.
The orchestral concert featured pupil compositions by Vahan Salorian (Ermysteds School) and Christopher Loader (Northallerton College) as well as the Albinoni Oboe Concerto No.2 performed expertly by music student, Alice Kelly.
The taxing Scheherazade, led by violinist Jacob George and conducted by Simon Wright, was a tour de force, the brilliant violin solo capping a skilful and memorable performance.
County Councillor Arthur Barker, North Yorkshire's Executive Member for Schools said: "The county bands and orchestra have been hugely impressive in recent years. They enable young people to perform challenging music with professional conductors, an invaluable opportunity that helps them raise their game to the highest level. For some it has been the springboard for a successful musical career."
Cllr Andy Quinn, Chairman of Craven District Council who attended both performances said " The young people excelled and the County Music Service should be suitably proud."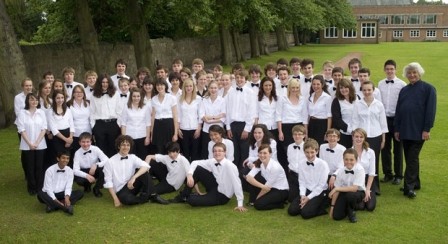 County bands and orchestra with conductor Simon Wright