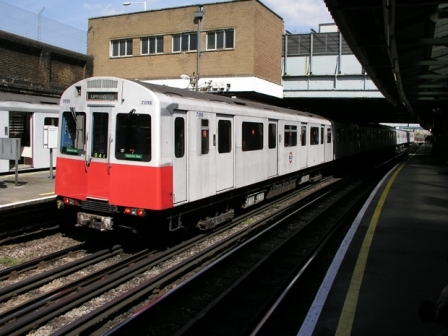 A PIONEERING plan to electrify a busy Yorkshire rail route and use former London Underground trains on it has been unveiled by Harrogate Chamber of Commerce.
This story has been supplied to Harrogate-News by industry experts www.railnews.co.uk with images accredited to www.railhub2.co.uk 
Research has been underway on a proposal to install side-contact conductor rails on the Harrogate line, using trains which will soon become redundant on the District Line.
Its been revealed that discussions have been underway for some time between the Chamber and Network Rail, the RSSB, ORR and other industry bodies, and that a presentation was made to transport minister Theresa Villiers on 12 July.
Under the plan, likely to cost a total of some £150 million, between 25 and 30 six-car 'D' stock trains would be converted to side conductor rail pickup, using a system which is already in use on the Docklands Light Railway and some foreign metros.
The live surface is underneath, making it safer and also more resilient in bad weather.
The project director is Mark Leving, who was formerly managing director of First Hull Trains. He told Railnews that the line from York to Leeds via Harrogate is particularly suited to conversion to a form of interurban Metro, on which trains would probably run at least every 15 minutes.
"Not only do we have a city at each end, with Harrogate in the middle, but also a number of other busy intermediate stations," he said. "There are countless tales of people being unable to board the present diesel trains at times, for example during the recent Yorkshire Show or when there's top-class cricket at Headingley.
"This is an unusual route, and we believe it would be convertable to take second-hand 'D' stock for a comparatively low investment, which is in line with one of the recommendations in the McNulty 'value for money' report.
"We've had a positive response from Network Rail, and we are also proposing that the route could become a standalone concession when the present Northern franchise ends.
"Northern has done very well with the resources it has, but a mixture of Pacers, 153s and other small diesel units is not enough to cope with the demand."
Network Rail LNE route director Richard Lungmuss has also been involved in the discussions, while Transport for London has already assisted with modelling the conversion of the present 650V 'D' stock to side conductor rail.
Mr Leving said: "We have a figure of about £6 million to convert 20 trains, although we would probably want up to ten more to provide spares. Although we would run at 750V, these trains were actually designed for that, and have been slightly underpowered during their time on the Underground."
The last 'D' stock trains are expected to be withdrawn in 2014, when the full 'S' stock replacement fleet has been completed by Bombardier in Derby.