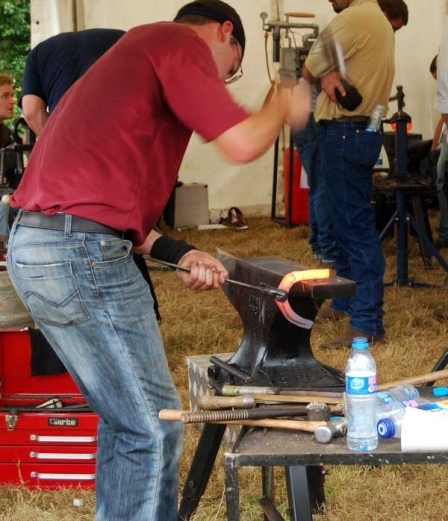 Visitors to this year's Tockwith Show will be able to watch live demonstrations of one of the countryside's oldest traditions when some of the region's leading farriers go head to head in the 2011 horseshoe challenge.
Farriering has always been a highlight of the village show, which attracts around 10,000 visitors a year, but the ancient tradition of using live horses in the showdown is being reintroduced this year by competition organisers the Yorkshire Farriers Education and Demonstration Association.
Former national champion farrier David Smith will travel from Warwickshire to judge the event which features two members of the England shoeing team and two members of the England apprentice team in the line up of hopefuls fighting for the Tockwith title.
"It's a long time since live horses have been used in the competition but we decided to bring it back this year to make the event more entertaining and generate interest in the skills of farriering," said Adam Fox, a local farrier and chairman of the YFEDA.
The show committee is renowned for its innovative approach to upholding the tradition of its annual village show and recently launched an online ticket booking system and Facebook page.
"We hope the use of horses will create a more thrilling atmosphere during the contest as well as giving visitors a more realistic insight into this ancient rural tradition," explained show chairman Sam Blacker.
"Tockwith Show has become a great social occasion but above all it helps to educate people in the traditions of the countryside which is more important than ever in today's society when many people who live in the countryside have little or no farming background.
"It's just one of the things that helps to make Tockwith Show such a big event and helps it to thrive when so many other local shows have been forced to close."
This year's event will be held on Saturday August 6 and will include a traditional farriers' competition, cookery demonstrations, a gun dog display, children's entertainment, an extensive farmer's market and many more attractions.
Full programme details, online ticket booking and information about show membership are available at www.tockwithshow.org.uk and on Facebook the show's page can be found by searching Tockwith and District Show.