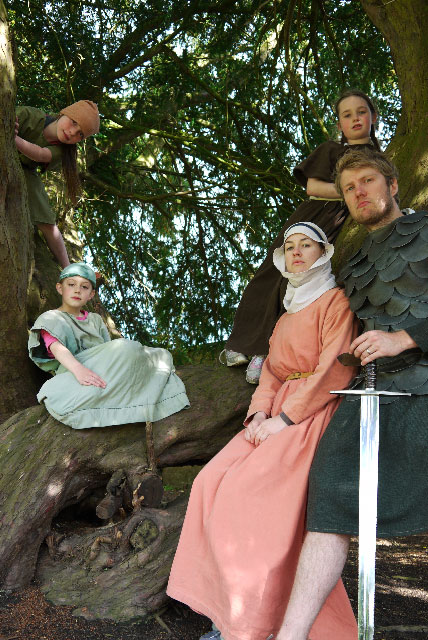 Three pupils at a leading North Yorkshire prep school are 'dying' for next week – when they take part in an open-air production of the Shakespearean tragedy Macbeth.
The trio – Lexi Murray, of Knaresborough, Emily Belcher, of Harrogate, and Ruby Johnson, who lives in Killinghall – are all pupils at Belmont Grosvenor School, based at Swarcliffe Hall, Birstwith, Harrogate.
They have been picked to appear in the Sprite Productions' staging of Macbeth, which opens in the grounds of Ripley Castle on Tuesday, June 21 and runs until July 10.
The girls, who take the roles of Macduff's children, come to a grisly end in Shakespeare's murderous play – but they are all relishing the role!
Said Emily's mum Claire: "The girls are involved in a very dark scene, as they all end up getting murdered.
"But they are thoroughly enjoying themselves – Emily's 'dying' technique is getting pretty impressive!" she laughed!
The three girls are all members of Belmont Grosvenor School's Curtain Call theatre group. Belmont Grosvenor School, an independent co-educational prep school, is set in 20 acres of grounds on the edge of the Yorkshire Dales.
Headteacher Jane Merriman is overjoyed that three of the school's pupils have been chosen to appear in the show.
"What a wonderful opportunity for these children to work alongside a professional company perfroming Macbeth in such a stunning venue!
"We are extremely proud of our talented girls and know that they will learn a great deal from this experience," she said.
Belmont Grosvenor School, along with its Magic Tree Day Nursery, caters for children aged from three months to 11 years. For more information visit the website at www.belmontgrosvenor.co.uk or call 01423 770129 to arrange a tour.
Tickets for Macbeth are available by calling 01423 770632 or by visiting www.spriteproductions.co.uk