A drive to promote Neighbourhood Watch in villages on the outskirts of Tadcaster has seen the number of schemes quadruple along with a 65% increase in recipients of Ringmaster messages.
Watch schemes are proven to reduce crime and anti-social behaviour where they operate. Through a combination of community engagement, awareness, education and improved security, offenders are put off and think twice about committing crime in areas covered by the schemes.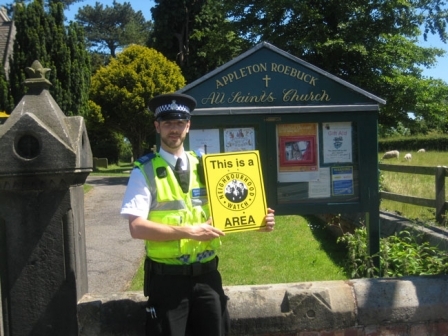 They also help to bring communities together, with local people working towards a common goal of preventing crime and keeping neighbourhoods safe and secure.
The Selby District's Ringmaster messaging system has also been rejuvenated. The system operates by using an email and text messaging service to allow the police to notify residents and businesses of crimes and incidents across the district. Depending on the nature and content, the messages can be sent as local or as wide-ranging as is required.
Police Community Support Officer for the Tadcaster Villages area, Neil Charlton, has fronted the drive to promote Watch schemes and the Ringmaster system to local people on his beat and is delighted with the success. He said: "I am extremely pleased with the enthusiasm for the schemes from residents and partners alike. This has resulted in the wards of Appleton Roebuck and Saxton and Ulleskelf being completely covered by Watch groups and the Ringmaster system is now operating in all 17 villages across the wards.
PCSO Charlton sent leaflets to every resident in the area, put up posters and held community engagement events to help promote the schemes.
He added: "The increase in Watch schemes is a really positive step and is testament to the villagers' willingness to work with us and help us drive crime down, ensuring the area is kept as safe as possible."
David McSherry, Neighbourhood Watch Coordinator for the Selby District, said: "I am grateful to be given the opportunity of being able to reinforce the enthusiasm shown from the local police commander Chief Inspector Richard Anderson and his staff, and in partnership with local communities, to drive down crime and make each village, town and rural area safer.
"I have been working since May 2009 as Lead Coordinator for the Selby District for NHW North Yorkshire, and it is only in that role that it is possible to appreciate the massive amount of work that police officers and PCSOs like Neil Charlton do.
"There is a definite renewed interest in community safety by parish councils, initiated in many instances by the local police team. I would urge councillors and other residents interested in setting up a Watch scheme to contact myself, their local police or the Watch coordinator as soon as possible to progress their interest."
There were two Watch schemes operating in the area prior to the campaign. Now there are eight and Ringmaster message recipients have increased from 35 to 54.
If you would like to form a Neighbourhood Watch group or want to be added to the Ringmaster messaging system, please log on to www.northyorkshire.police.uk/nhw and www.northyorkshire.police.uk/ringmaster