Residents of Chudleigh and Stokelake Road in Harrogate have recently set-up one of the first "No -cold calling zone" in the area.
The zone was set-up in conjunction with the Harrogate Police and Trading standards who are actively encouraging these schemes as a way to reduce the rising crime from doorstep callers, bogus workmen, high pressure salespeople, bogus officials and distraction burglary. The connection between distraction burglaries and rogue traders are known to be interlinked and are on the increase.
Signs have now been installed on all the entry points to the area, so that anybody entering the zone are aware that they can not cold call in the area.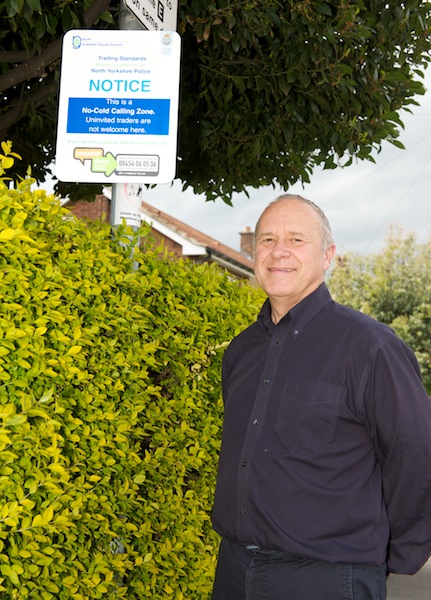 Resident John Mitchell who set-up the scheme explained more: "PC Ed Rogerson suggested the scheme to me, so I contacted the trading standards. It was fairly easy to set-up though.
I needed to gain agreement from all the households involved and then the trading standards also asked for their agreement"
Trading Standards recommend setting up small manageable groups, but if one household objects then it can make it difficult to implement. There is normally no costs involved to the residents as grants are generally available.
John Mitchell added: "If these schemes are more widely adopted then people simply won't come to the town and attempt to cold call"
If you are interested in setting up similar scheme in your neighbourhood them more information is available from Trading Standards.
Please use this link for information