Jo Gausden and Jeremy Scott were full of beans at Henshaws Arts & Crafts Centre as they celebrated a double effort to raise money for good causes.
Jeremy, a staff member at Henshaws Community Housing, sank into a bath full of baked beans to raise money for a memorial bench in honour of Mark Porrit, who lived in a Henshaws community house and tragically died at the start of this year.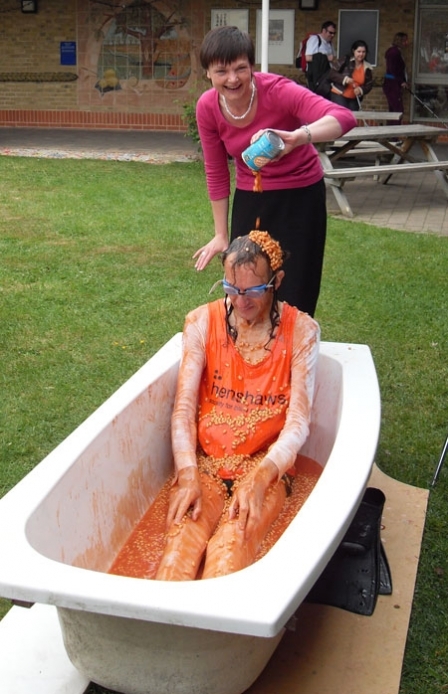 Jo, from Voca Link based in Harrogate, hot-footed it to Henshaws with a cheque for £2,500 which she raised whilst taking part in the London Marathon. The money raised will be donated to Henshaws' Arts & Crafts Centre.
Louise Ashton, marketing and communications manager at Henshaws, said: "The celebration was fantastic – Jeremy was very brave to take the plunge and Jo was more than happy to keep the bath overflowing!
"We are very grateful to both Jeremy and Jo for their efforts – thanks to you both. We're touched that we will be able to remember Mark in this way – he was one of our most independent service users and a former student at Henshaws College."