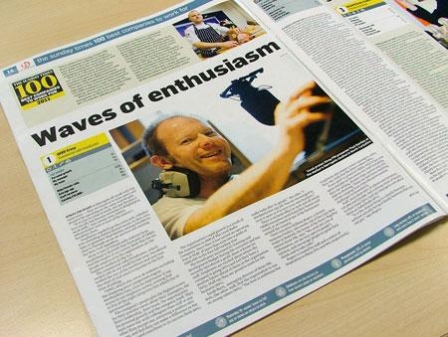 Stray FM is celebrating after being judged the best company to work for in the UK.
The radio station beat hundreds of other companies to grab the number one spot in the top hundred list, revealed by The Sunday Times this weekend. Independent inspectors have spent the last few months scrutinising bosses and staff at its base in Harrogate along with its fifteen sister stations across the UK. All are owned by independent radio operator UKRD, which operates stations from Cornwall to Sunderland in addition to more than forty websites.
In addition to examining the range of employee benefits and training programmes, staff at Stray FM were asked to fill in anonymous questionnaires about their life at work, broken down in seventy different questions. The outstanding results saw the company judged outstanding on almost every key indicator used by judges. In addition to being ranked first overall, the company also topped tables for Managers who Listen, Staff who are Least Bored at Work, the Most Stimulating Place to Work and for staff that love working for the company.
Managing Director Sarah Barry said, "This is an immense achievement for Stray FM and Harrogate. Thanks to the dedication of our staff we have come out above well established household names such as Office Angels, Beaverbrooks and Virgin Money. Part of this is undoubtedly attributable to the relationship that we have with our community, listeners and clients. Among the initiatives the radio station has been involved in over the last twelve months have been an on-air radio auction in aid of St Michael's Hospice raising over £10,000, our very own Local Hero Awards, The Great Knaresborough Bed Race, Race for Life, The Midnight Walk amongst numerous others – there are simply too many to name them all"
Stray FM and UKRD are virtually unique in making the company culture and core values the most important factor of the business. There is a specific "fun budget" per member of staff. Last year activities included days out sailing, theatre trips and clay pigeon shooting. Teams are encouraged to offer their ideas and opinions on the way the business is run.
Having previously ranked twenty-seventh in last year's Best Small Companies to Work For list, a recent acquisition of new radio stations pushed it into the medium category. It entered at number one at the first time of asking.