Visitors to historic Newby Hall near Ripon this summer can enjoy a spectacular new garden feature.
One of the UK's finest Adam houses, Newby Hall has installed two new pavilions decorated entirely with sea shells which have been painstakingly created in its restored award-winning garden.
Located at the end of the Hall's famous 172m long double herbaceous borders on the banks of the River Ure, the pavilions have been designed to provide a calm place in which visitors can sit and linger to enjoy the views of both the garden and the river.
Conceived by Newby Hall's curator Lucinda Compton and architect Christopher Smallwood, the exterior of the stone and brick pavilions reflect the 17th Century Christopher Wren Grade 1 listed house.
The pavilions were constructed by the Newby Hall building team using locally sourced materials – some recycled from the estate including pink bricks, sandstone coining, slate rooves, stone paving and sash windows – and are finished with lead finials depicting beacons with gilded flames, the Compton crest.
The intricate shell interiors were designed by Lucinda who took inspiration from the formality and elegance of the 18th Century Robert Adam interiors of Newby Hall. The pink, white, lilac and silver shells echo the new colour scheme of the herbaceous borders, completely replanted in 2015.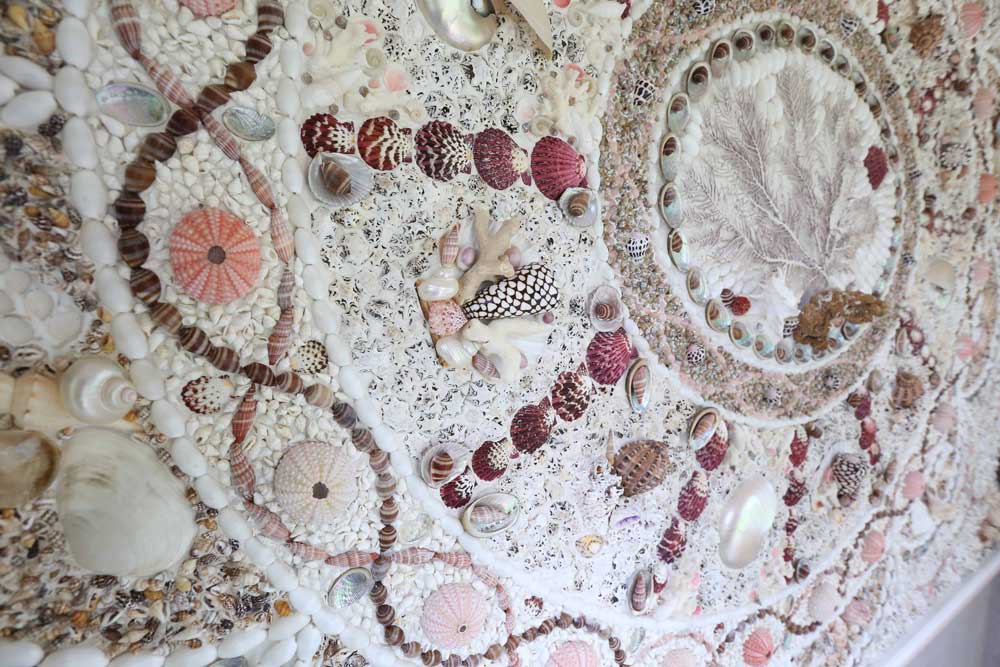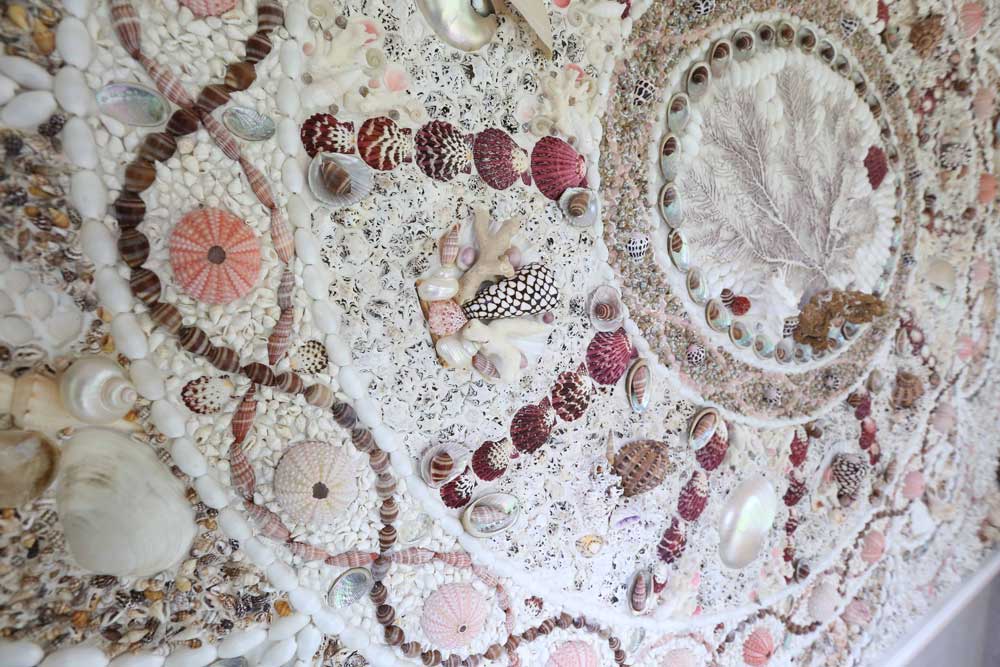 Lucinda said: Shell rooms and grottos were the height of fashion in the 17th and 18th Century when Newby was built. I have always loved shells, they remind me of where I grew up by the sea in north Devon. I wanted the pavilions to mirror the designs used in Adam's work as seen in the house – figure of eight borders, roundels, ovals, demi-lunes, swags and scrolls. We've successfully incorporated many of my shells – oysters, razor clams and tiny pink cowries, as well as the sea fans I collected many years ago in Senegal – into the design. Now the pavilions are finished, they are a peaceful place to just sit quietly and reflect. The shell designs are so delicate, exquisite and beautifully executed – transporting us back to that age of Elegance.
Lucinda's concept was delivered by shell artist Linda Fenwick and her team. The North Yorkshire-based designer creates bespoke shell work in her Terrington studio . Linda has had a lifelong fascination with all things shell and uses shells to decorate all manner of buildings from follies and pool houses to restaurants, as well as creating interior accessories, such as mirrors, tables and trays.
For the Newby Hall panels, she took Lucinda's original sketches and worked with her to translate the concept into shells. Each design was laid out with Lucinda helping to choose the shells. Putting the shells in place took the team approximately 3000 hours in total.
Linda Fenwick said: "Shell decoration has been popular since Roman times when shells were symbols of prosperity and regeneration and associated with fertility. They offer textural qualities and the subtle colours lend themselves to any environment. People find it very calm and peaceful sitting in a room of shells – it brings a bit of sea to rural North Yorkshire and it is lovely that every shell used tells a story.