Green-fingered pupils from secondary schools throughout Yorkshire celebrated the culmination of 10 weeks of hard work to design a new green space at a special celebration day in Harrogate (7 December 2016).
Key Stage 3 pupils from schools in Bradford, Knaresborough, Harrogate and York took part in the Green Plan It challenge – an RHS initiative designed to inspire the horticulturists of the future by encouraging them to take part in a competition to design a new green space, either at their school or in the local community.
Each team of 12 to 14-year-olds was supported by a mentor from the horticultural industry who worked with the pupils to develop their ideas and use a range of materials to bring their ideas to life. Along the way, they learnt valuable life skills including teamwork, design and planning and found out about the wide range of career options that exist within horticulture.
A panel of expert judges led by RHS Garden Harlow Carr Curator Paul Cook and garden writer and broadcaster Martin Fish awarded marks for innovation and teamwork.
The overall winners were 'Team Unison' from Dixons Allerton Academy in Bradford, they came out on top thanks to their Gruffalo Garden, a community garden project designed to encourage younger people to explore native British habitats and plants using interactive information tools such as QR codes.
The team won a trophy and £100 worth of Horticultural Trades Association gardening gift vouchers which were presented by RHS Ambassador Jamie Butterworth whose role is to inspire young people to consider careers in the horticultural sector.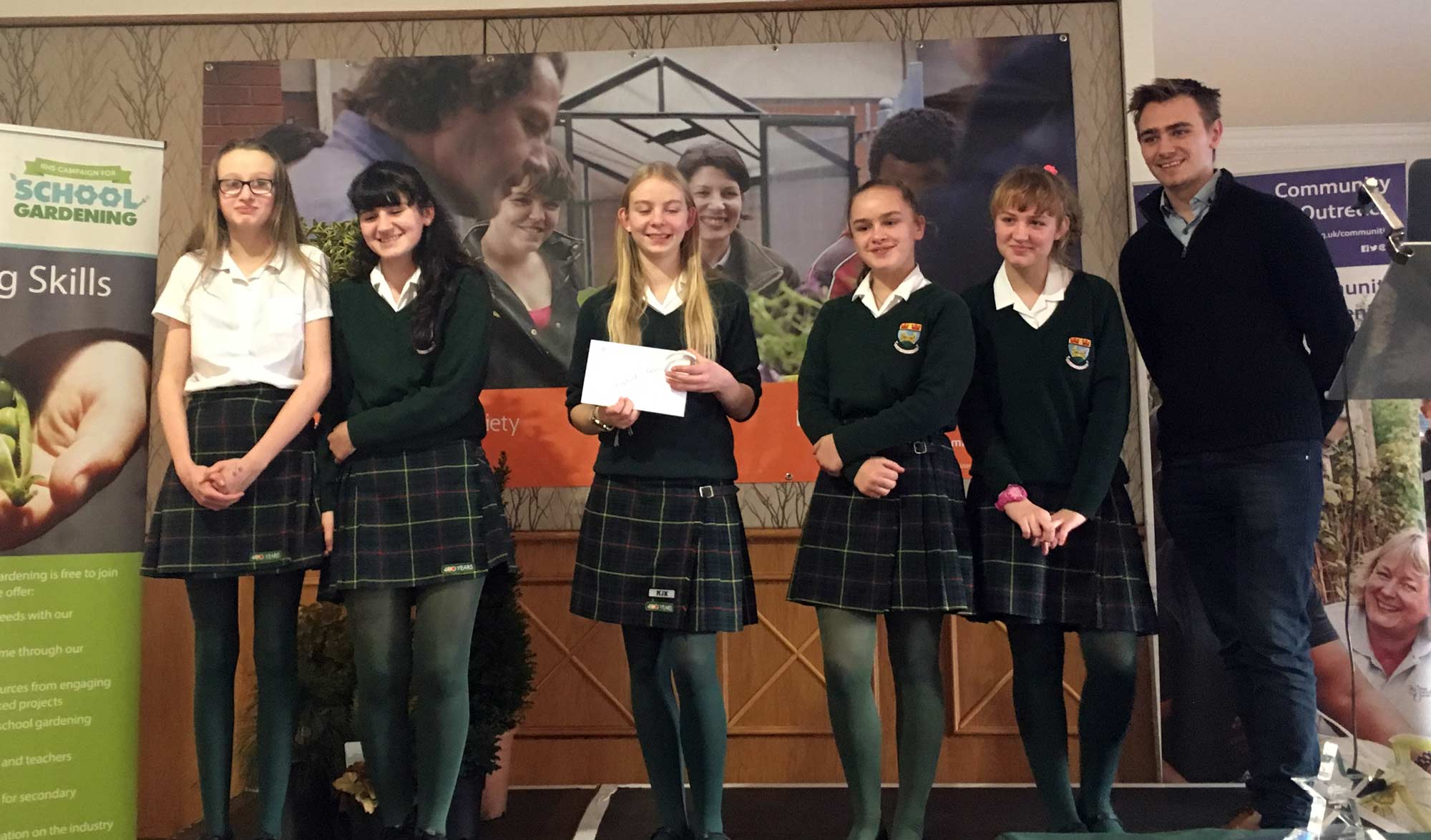 Other winners included:
'Team ECO KJS' from King James' School, Knaresborough
'Team Synergy' from Dixons Allerton Academy, Bradford
'Team Pink Leaves' from King James' School, Knaresborough
Claire Fitton, Community Learning Manager at Dixons Allerton Academy said: It's been really useful guiding the students on a real world, real life project working with our mentors from Notcutts and Harespring Cottage Plants, scholars and the wider community. We're now looking forward to securing funding so we can build the garden within the community.

Jamie Butterworth said: It was fantastic to meet with the pupils and see the amazing designs they've come up with.  I hope the experience has given them a real insight into what it's like to work in the horticultural sector and inspires those who may not have previously considered a career in horticulture to think twice about their options.
Gavin Hardy from the RHS Yorkshire Community Outreach Team said: A huge thank you goes to the industry figures and mentors who have given up their time to invest in the next generation. It speaks volumes about their commitment to ensuring that young people learn more about the diverse and rewarding horticultural sector.
The schools taking part in the Yorkshire RHS 'Green Plan It' challenge were:
Dixons Allerton Academy, Bradford
St Aidan's Church of England High School, Harrogate
King James's School, Knaresborough
Manor Church of England Academy, York
Canon Lee School, YorkMentors from horticultural organisations throughout Yorkshire have supported the schools throughout the challenge. They include: RHS Garden Harlow Carr, Horticap, Notcutts, Harespring Cottage Plants, Grace Landscapes, Freshscaped, GRIT IT Ltd, Wack's Wicked Plants, Johnsons of Whixley, Green-tech Ltd, Buglife and the Chartered Institute of Horticulture.