Judges look set to notch up a first at this year's Harrogate Autumn Flower Show when they turn to the very latest in scientific technology to solve a rather large problem.
Faced with the sizeable dilemma of how to decisively distinguish one variety of giant tomato from another, show officials have requested special DNA testing to make sure they don't end up with ketchup on their faces!
This year's giant vegetable competition at Harrogate Flower Show sees the launch of an exclusive new championship for a variety of heavy tomato called Gigantomo, sponsored by mail order plant specialists Van Meuwen.
With a £1,000 prize for the winner of the class and a further £5,000 on offer if the heaviest fruit sets a new world record, some growers had expressed concern about the prospect of a 'ringer' weighing-in to top the scales.
So, in what the show believes could be a first for the world of giant veg, scientists at the Naktuinbouw Variety Testing laboratory in Roelofarendsveen, The Netherlands, will use their highly sensitive Variety Tracer technology to confirm that the successful specimen is true to type.
The testing will also form part of a major new collaboration between Naktuinbouw and the University of Amsterdam in a project called 'Green Forensics', aimed at identifying the DNA genome sequence for individual tomato cultivars.
Molecular biologist Hedwich Teunissen, of Naktuinbouw, said:

We get a wide range of requests for DNA fingerprinting, from straight forward identification issues to patent and plant breeders' rights disputes, but this has to be one of the most unusual challenges we have received so far!

We are pleased to be able to help solve Harrogate Flower Show's problem and confirm the results of the new championship later this month.

The testing has also presented a good opportunity to include a giant tomato variety in the research we are currently conducting in developing our new identification tool using the complete DNA sequence for tomato cultivars.
The new class for Gigantomo was launched in January (2015), with the final weigh-in due to take place on Friday 18 September. It will immediately follow judging for the show's internationally renowned heavy onion championship, which has seen growers notch up some 13 world records over the last 32 years. The official Guinness record for the heaviest tomato stands at 7lb 2oz (3.5kg), though a heavier specimen was reported in the USA last year, weighing 8.41lbs.
Show Director Nick Smith said:

Giant veg growing is great fun and tremendously popular with our visitors, but it also has a serious side, especially with such a big prize at stake. When experienced growers contacted us to express concern about making sure that the new class for Gigantomo would feature only specimens from that variety, we set out to find a way of being as certain as we possibly can that the winner has the right pedigree.

We are delighted to be able to work with scientists at Naktuinbouw and we hope that growers will be reassured by the fact that we have taken their concerns seriously enough to carry out such detailed analysis of the winning entry.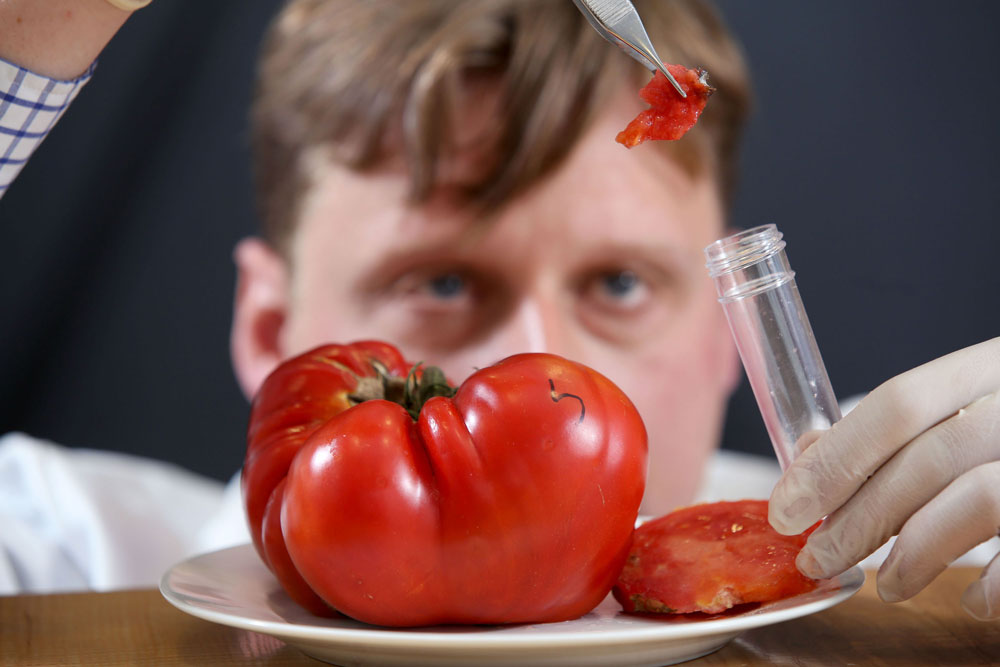 Harrogate's giant veg competition was launched in 2011 to celebrate the centenary of the show's organisers, the North of England Horticultural Society. Exhibition tables now groan with produce in 13 heaviest or longest classes, including cabbages, marrows, parsnips, carrots, beetroots, potatoes, leeks and many more. Last year, two new world records and a new British record were set at the competition.
Rated in the top three UK gardening events by Which? Gardening, this year's 40th Harrogate Autumn Flower Show will also feature Inspiration Street show gardens and over 5,000 beautiful autumn blooms in Britain's biggest exhibition by specialist gardening groups.
Also new for 2015 are a Harvest & Hedgerows celebration of nature's bounty and the launch of a sweet pea to celebrate the show's ruby anniversary, called Harrogate Gem.