Comedian, Adam Hill is set to come to Harrogate on 5th November 2013.
The comedian took inspiration for his new show,  "Happyism," from two very unlikely sources: the Dalai Lama and, er, The Muppets. I wonder if those two names of ever appeared together in a sentence before.
In the run-up to his autumn tour of the show, Adam is – most appropriately – in a very happy and infectiously funny mood. He is someone who sense of humour is simply contagious.
The Australian stand-up begins by explaining how these two very diverse elements inspired his show.
Adam said:

I performed with The Muppets in Montréal, and it was one of the best nights of my life. The Muppets are all about putting positive energy in the room.
The comedian, who has won a whole new audience and became a household name in the UK as the host of Channel 4's critically acclaimed entertainment show, The Last Leg, continues that, "On another occasion I performed at a tribute concert in Perth for the Dalai Lama. The line-up included a band called The Nobel Funk Off. Every member was dressed as a Nobel prize-winner. They had Gandhi and Mother Teresa, and the bass player was dressed as a Dalai Lama himself. It was a tribute act in every sense!
Adam said:

Before the show, 50 of us had a private audience with His Holiness. He gave a speech in which he said, 'I don't know comedy, but I do know this: you have a microphone – use it to say something'. Of all people, the Dalai Lama was saying that to me. It put things into perspective and was truly inspiring. I realised I wanted to do a show like the Muppets where the whole point is to put positive energy into the room. People really connect with that. So the Dalai Lama and The Muppets set me on the right comic path!

Not many comedians can say that.
Adam, who possesses a wealth of wonderfully amusing anecdotes, adds that other random incidents also helped give rise to "Happyism." "I remember in Las Vegas once seeing Don Rickles, a real old-fashioned, put-down comedian. I recall laughing myself silly, but leaving the room feeling dirty, like my soul had been darkened. I started get the feeling that there was another more positive way of doing comedy.
Adam said:

Another time, I was asked to go on Chelsea Handler's show in the US. They wanted me to make mean jokes about Megan Fox, but I really didn't know who she was.

I didn't have a problem with her. So I was delivering jokes about someone I didn't have a beef with just because the producers thought my material was too nice and wanted me to be mean. It was an interesting experience, but what I did was terrible.

I'm no good at being mean, especially about things I don't believe in. So the lesson I took away from that was: stick to what you believe in.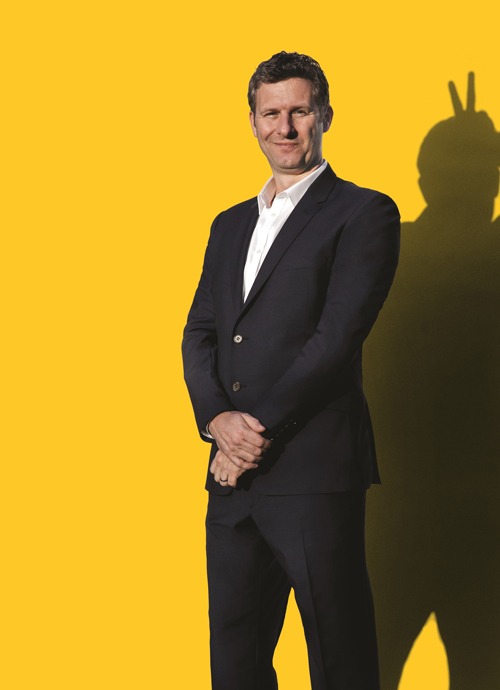 And what he believes in is generating a marvellously warm atmosphere at his shows. Everybody comes out of an Adam Hills performance with a huge grin on their face.
Adam, who was born without a right foot and wears a prosthetic foot, carries on that, "I rested the mouse on the front of the stage so the woman didn't have to hold onto it. Then halfway through the show, one of the balloons popped – and it happened to be the mouse's right leg. I said, 'This is amazing. Mickey Mouse is now disabled, and he's missing the same leg as I'm missing!'
Adam:

The audience knew they were seeing something that would never happen again. They were the lucky ones who just happened to be in the room that night. If you ask someone in many years' time if they remember that night, they'll reply, 'I'll never forget it!' That's what I love about stand-up.
The comedian, who hosts his own chat show on ABC Australia and for many years chaired the very popular Australian music quiz, Spicks and Specks, admits that, "Sometimes I feel guilty because the audience is such a brilliant, untapped source of material. The great thing is, every night they leave feeling empowered. They don't feel like lesser beings – I tell them, 'You're every bit as fascinating as any celebrity in a gossip magazine'."
Adam, who has been commissioned by Channel 4 to present two more series of The Last Leg, goes on to give another fabulous example of his skill as an off-the-cuff comedian. "One night, a woman came in late and I made it my mission to prove she was every bit as interesting as a celebrity. I found out that she was going to bring her daughter along to the show as she wanted her to marry me, but the daughter had gone somewhere else that night. So I called the daughter who was actually at a fancy dress party with her boyfriend. She was dressed as a schoolgirl and he was dressed as a Roman. They sent me a picture of themselves which I Tweeted to the audience.
Adam said:

I invited the couple to the show the next night – as long as they came in their costumes. We had a mock wedding on stage. Then a month ago, I got a note from the mother saying the couple were actually getting married and could I do something for their wedding. That's an extreme example of improvisation!
Adam, who as a stand-up has won the Helpman Award for Best Comedy Performance, the Best of the Fest Award and the Forth Fringe Award, contributed enormously to the massive success of Channel 4's coverage of the Paralympics last summer with his nightly appearances on The Last Leg.
Adam said:

Something special happened during the Paralympics. It was a thunderstorm. We went into a field, held up a golf club and thankfully lightning struck it.

Channel 4 took the Paralympics very seriously and devoted a lot of time to it. If they hadn't made such a great job of it, we couldn't have made fun of it on The Last Leg. But we were never mocking the disabled – we were celebrating their achievements. We were saying, 'Here is a person doing something extraordinary, and here are some funny things about it'.
Adam has had a long and passionate association with the Paralympics.
Adam said:

After the Beijing Paralympics, the Australians tried to recruit me for their wheelchair tennis team. But it meant being in a wheelchair eight hours a day permanently. I thought, 'That's a lot of work. I'm not sure I can to do it.' So the Australian chef de mission said to me, 'The best thing you can do for the Paralympics

is to tell people about it'.

And I think that's what we've done on The Last Leg.
The comedian, who ascribes the success of The Last Leg to the "magical" chemistry between himself and his fellow presenters Josh Widdecombe and Alex Brooker, observes that, "We didn't want to preach – we wanted to be funny. We didn't say, 'Let's break down barriers'. We said, 'Let's celebrate the Paralympics', and in doing that we inadvertently broke down barriers."
Ultimately, Adam been such a hit fronting The Last Leg that Channel Four invited him to deliver its alternative Christmas Day message last year – a first for an Australian! But he remains refreshingly modest about his achievements. "I first came to Britain in 1997, and I've been slowly chipping away since then. I grew up watching British TV. So at the risk of sounding cliched, doing my own show for Channel 4 feels like I'm living the dream. But I'd never take it for granted."
So, I wonder in conclusion, has Adam's huge success over the last year turned him into the most popular Australian in Britain? He greets my question with an appealing, self-deprecating laugh, before replying: "I certainly get more cheers than the Australian cricket team!"