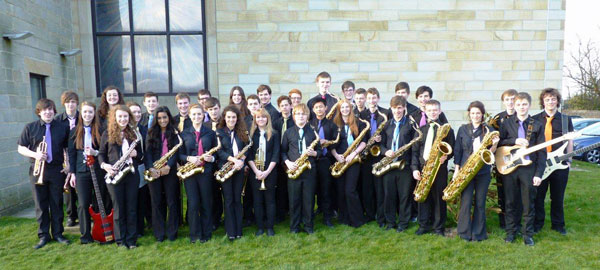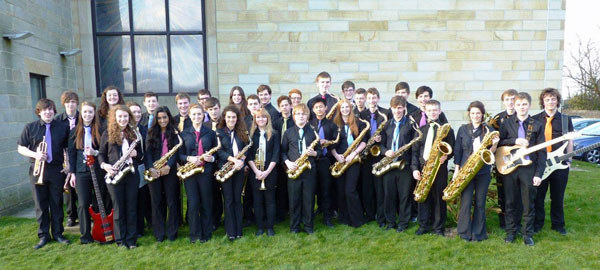 St. Aidan's Swing Band entered the Great North Big Band Jazz Festival held in Sunderland on Sunday 4th March. The band travelled upto Sunderland University Campus where a whole weekend of jazz had been organised by Sunderland University Big Band Director Bill Watson.
The band were first treated to a workshop lead by Bill Watson and various professional jazz musicians including Mick Donnelly (tenor sax) and Paul Jones (alto sax) of the BBC Big Band. The schools competition started in the afternoon, involving schools from Prudhoe, Darlington and Tudhoe.
St Aidan's Swing band opened with 'The Caboose' (Wynton Marsalis) and from there on it appeared to be 'game over' according to one online Jazz Blog with Jordan Smith (alto sax) receiving the Best Soloist Prize for his rendition of 'Body and Soul' and special mentions were also given to James MacCallum and Jake Fireman who received the Adjudicator's prize for their drum duet in the piece 'Frankenstein' which was described as a 'showstopper'. The adjudicators were particularly impressed with the bands' brass section and the ' breath-taking attention to detail'.
The bands Musical Director Vicki Elliott said:
Considering it was the bands' first time in the festival she was amazed and very proud of what they had achieved'. The band received a £100 cheque and trophy and will be back to defend their title next year!
St Aidan's Swing band have also been chosen from 11 Big Bands in the UK to be part of the Essentially Ellington UK Programme. Wynton Marsalis and the Lincoln Centre Jazz Orchestra have launched the American programme in the UK as part of their residency at the Barbican Centre, London. This involves the band learning two pieces from the Essentially Ellington Programme as well as a piece of their choice by a UK composer. At the end of March, a member of the Lincoln Centre Jazz Orchestra will be flying in from the USA to take a workshop for the band in conjunction with a top UK jazz musician. The band will then get chance to play their pieces as part of the Essentially Ellington Festival at the Barbican Centre and get the opportunity to play with the Lincoln Centre Jazz Orchestra.