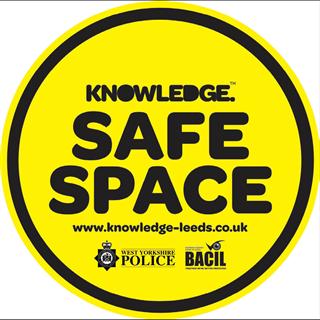 Students in Leeds can be sure to find a 'Safe Space' in more than 250 venues in the city centre thanks to a new scheme launched by the local Neighbourhood Policing Team (NPT).
Premises which are signed up to the 'Safe Space' scheme offer a friendly face to the thousands of students who come into the city, should they ever need assistance.
The aim is to offer reassurance to students who are new to the city – and those who have been here for some time – that help is at hand 24 hours a day.
The vast majority of businesses which are signed up to the scheme are part of Businesses Against Crime in Leeds (BACIL), the city's crime-fighting partnership between police and premises running during both the day and night.
All Safe Spaces display the yellow and black logo in their windows. Should students become a victim of crime or need assistance, they can visit the premises as a place of safety or to contact the police.
The scheme has been launched in partnership with British Transport Police, the University of Leeds, Leeds Metropolitan University, Leeds Trinity University College, Leeds College of Music and the Leeds University Unions.
Inspector Richard Clarke, who leads the City Neighbourhood Policing Team (NPT), said: "Leeds city centre is a safe place to be at all hours of the day and the chance of becoming a victim of crime is very small, but even then it's important that people coming here feel safe too.
"Students are no different and for many it will be the first time they have lived within a major city, so it's important that we work together with local businesses to reassure them that there is always somewhere to go, should they ever need us.
"I'm sure that all businesses in Leeds are willing to offer a helping hand to anyone who needs help, but by advertising the Safe Space scheme students can see that assistance is always available."