MAGICAL surroundings at a leading independent prep school have inspired an Enchanted Ball fundraiser in aid of Yorkshire Cancer Research.
The PTA Committee at Belmont Grosvenor School, based at Swarcliffe Hall, Birstwith, hope to raise up to £15,000 at the unique event which will see the school's 20-acres of beautiful grounds illuminated to create a spellbinding wonderland.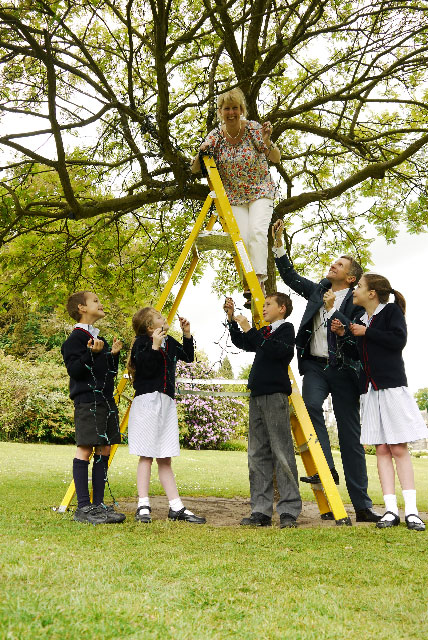 The special evening, to take place on Saturday, July 2, will begin with a champagne reception served with canapés as the sun sets over the Nidderdale valley.
The talented Dragon Sax quartet will perform before guests settle down to enjoy an 'enchanted' menu of fine dining provided provided by Michael Kernall Caterers.
An 'Auction of Experiences' will follow dinner and there will be dancing into the early hours.
Yorkshire Cancer Research, which funds world-class research, treatment and diagnosis projects throughout the region, was chosen as the benefitting charity following a presentation by the charity's Chief Executive, Mark Stevens, who lives close to the co-educational Belmont Grosvenor School. Money raised at the ball will be divided equally between the school's PTA and Yorkshire Cancer Research.
Julia King, Chair of the PTA Committee, said: "I am a former Macmillan nurse and worked closely with cancer patients so we were committed to supporting a cancer charity this year. Yorkshire Cancer Research is a truly local charity and had the overwhelming support of the committee.
"All of us will undoubtedly be touched by cancer at some point in our lives and raising valuable funds for research by doctors and scientists in Yorkshire is a hugely positive way to help, in promoting better treatments and ultimately higher rates of cure.
"Belmont Grosvenor is a very special place, and we will be utilising all it has to offer to ensure guests at the Enchanted Ball see the school in an entirely different light!"
Mark Stevens, Chief Executive at Yorkshire Cancer Research, said: "We would like to thank the Belmont Grosvenor School PTA for choosing to support Yorkshire Cancer Research at their Enchanted Ball.
"Sadly, Yorkshire currently has one of the worst cancer survival rates within the UK which is due a lack of funding provided by the government and national charities to internationally renowned researchers and clinicians within the region.
"Every year Yorkshire Cancer Research spends about £6m on cancer research and we rely on our supporters to ensure that we can help to fill the gap and continue to save Yorkshire lives."
For more information or tickets for Belmont Grosvenor School's Enchanted Ball please visit www.belmontgrosvenor.co.uk or call 01423 771029 .