Join us at Gino's, Harrogate on the 13th November at 2pm
We are looking for passionate people who want to make a difference in the local community, help to organise events, support our collections and raise awareness throughout Harrogate to come join us at Gino's and discover more about Marie Curie.
All money raised by the Harrogate Fundraising Group will help Marie Curie provide expert care, guidance and support to help people with a terminal illness, and their families, get the most from the time they have left.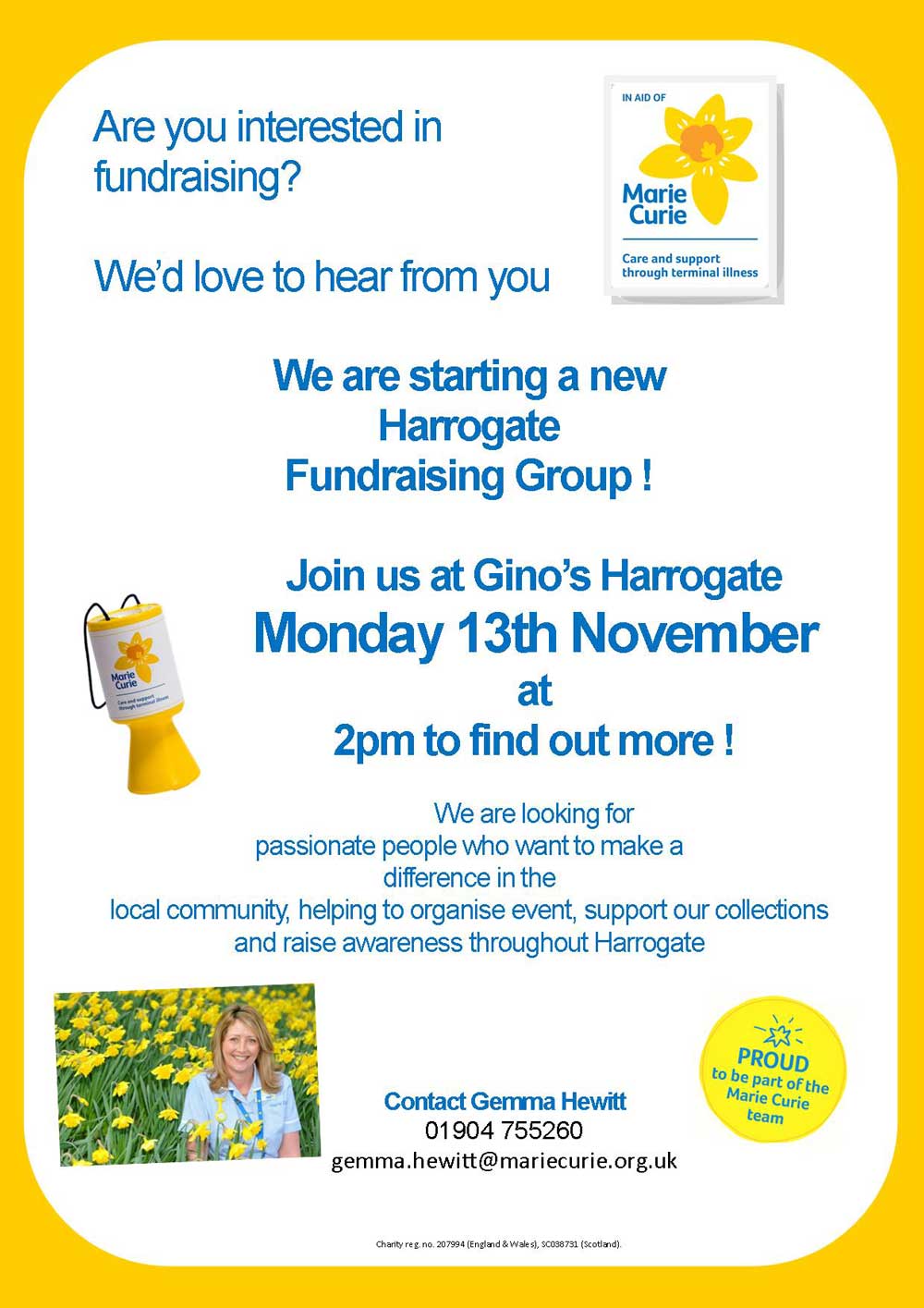 The New group already has four wonderful ladies ready to start fundraising; Chair Nicola Appleton, Treasurer Jo Finnegan, member Julie Scarborough and Margot Richardson.
They have come together through all experiencing the incredible work that Marie Curie provides.
Chair Nicola:

When my dad was diagnosed with terminal liver cancer he decided he would like to stay at home and not go into the hospice or hospital. It was hard taking care of him near to the end and it was suggested that we should try Marie Curie to give us some respite through the night. They were like angels and allowed us to get some rest so that we could give dad everything he needed in the day…we couldn't have kept going without them. I have now decided to work with this wonderful charity that helped us so much at a time we so desperately needed help.
Locally, Marie Curie Nurses work night and day, in people's homes across Harrogate providing hands-on care and vital emotional support. The charity is also the leader in research into better ways of caring for people with terminal illness.
Seven out of 10 carer's say that people with a terminal illness do not get all the care and support they need. As the UK's leading charity for people living with any terminal illness, and their families, Marie Curie doesn't think that is good enough.
For more information or to get involved contact Community Fundraiser Gemma Hewitt on 01904 755260 or just pop along to Gino's on Monday 13th November 2pm to find out how you can get involved.
If you have any questions about terminal illness and are looking for support, Marie Curie is here to help you and your family. You can call the Marie Curie Support Line on 0800 090 2309 (Monday to Friday, 9am to 5pm)* or visit Mariecurie.org.uk/help. You can also visit community.mariecurie.org.uk to share experiences and find support anytime of the day or night.