Date/Time
Date(s) - 8 October 2017 - 9 October 2017
7:30pm - 12:00am
Location
Bilton Working Men's Club
Harrogate
North Yorkshire
HG1 4LL

As part of their nationwide Feel Again Tour, Yorkshire-based band Hope & Social descend on Harrogate on Sunday 8th October for the third date of their journey around Britain.
It's hard to describe Hope & Social. Many have tried but their own description seems to hit the spot. Their website describes them this way – "In the tradition of the travelling bands, we guess we're a bit like a Yorkshire E-Street Band…meets Arcade Fire…meets The Faces…meets Dexy's Midnight Runners…meets Prefab Sprout…at a party…in an argument about who gets to have sex with David Bowie". It may be a bit tongue in cheek but I doubt Q Magazine were being serious when they described them as "a big sound from this impressive outfit…inspired, anthemic, great".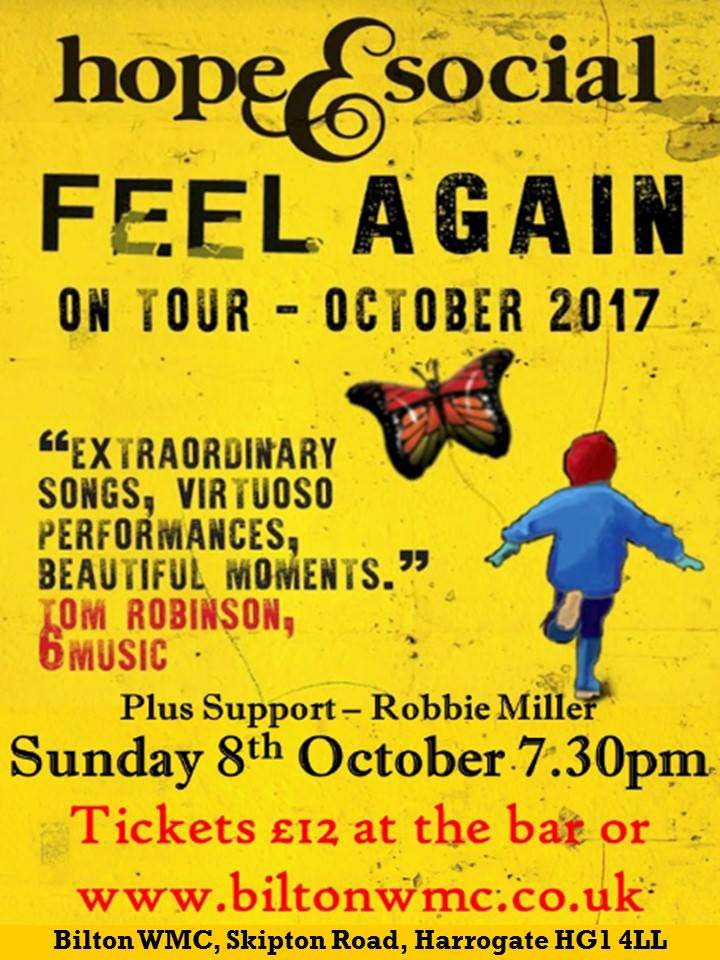 The venue for the gig is Bilton Working Men's Club and Treasurer Alan Huddart said:

This will be the second H & S gig we've hosted and we just love the sound, the atmosphere and the energy of the shows – there is always something different and no two shows are the same.
The show starts at 7.30pm with support from local talent Robbie Miller – tickets are £12 available from the bar or https://www.eventbrite.co.uk/e/hope-social-plus-support-tickets-35243933554 or on the door if there any left!