Date/Time
Date(s) - 8 July 2018
1:00pm - 5:00pm
Location
Coldcotes
Harrogate
North Yorkshire
HG3 2LW

A Blooming Great Tea Party on 8th July 2018, will help raise vital funds for Marie Curie so that the charity can continue to provide care and support for people living with a terminal illness and their families across Harrogate.
The event, between 1pm and 5pm at Cold Cotes (Cold Cotes Road, Harrogate, HG3 2LW, signposted on A59 Menwith Hill) has been organised by the Harrogate Fundraising Group and will include a cream tea of homemade scones, jam and cream, tea or coffee and entrance into the stunning Cold Cotes gardens. Entry is £6.95 per person payable on the day.
Nicola Appleton, Chair of the Harrogate Fundraising Group said: "We're really excited about staging the Blooming Great Tea Party and hope that people from across the town will support the event and join us."
Nicola, who was appointed Chair in October last year, was inspired to volunteer for Marie Curie after nurses cared for her father, Lewis Smith. Sadly Lewis was diagnosed with liver cancer in December 2015 and lost his battle in February last year.
Nicola explained: "Though Dad found out that he was terminally ill in December 2015, he kept the diagnosis to himself until we returned from our family holiday to Dubai in January. I imagine it was his way of protecting us and ensuring yet more happy memories were created. Those special moments will remain with me forever.
"Dad had always been an incredibly fit man so the shocking news was a dreadful blow. Despite his illness, he had ambitious plans to travel to Turkey but, due to a blood clot, he was unable to travel. In January last year, he developed pneumonia and he passed away shortly after."
Nicola added: "Dad's wish was to be able to spend his final days in the comfort of his own home but we were finding it increasingly difficult as a family to provide the care he needed. We were concerned about him getting up during the night so we put a bell on his walking frame in the hope it would alarm us that Dad was up and about. However, it soon became clear that we were sleeping through the alarm so we ended up staying awake each night to make sure he didn't get up on his own.
"It was at this juncture that Marie Curie nurses stepped in to care for him during the night. This enabled us to get some much-needed sleep so that we could spend quality time during the day."
Nicola concluded: "I'm really enjoying my new role and it gives me immense satisfaction knowing that I'm playing a part in helping to ensure more people in Harrogate have access to the support and services of Marie Curie. We've had amazing fun during the Great Daffodil Appeal, despite the snow, and have got some exciting fundraising plans for the coming year."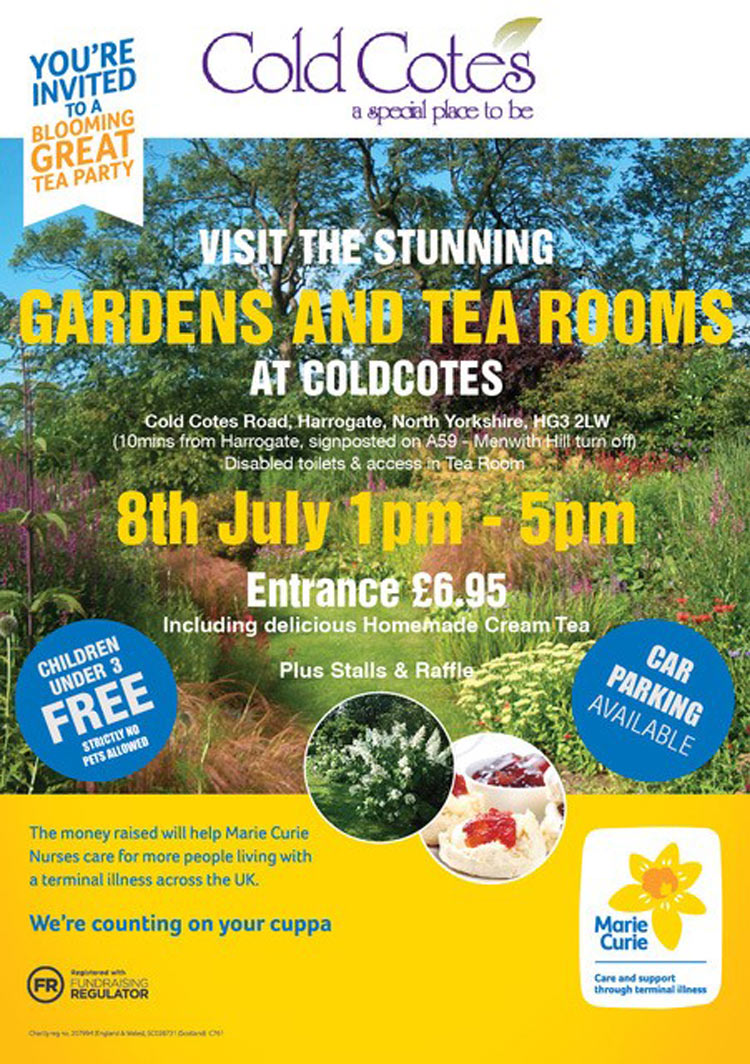 If you would like to join the Harrogate Fundraising Group or stage your own Blooming Great Tea Party, then please contact Gemma Hewitt on 01904 755260, email gemma.hewitt@mariecurie.org.uk or visit www.mariecurie.org.uk