Some things stay stuck in the past, others move with the times. When it comes to bingo, this is a game that's very much in the second category.
Considering that its origins lie in 16th century Italy when the first ever lottery was created by the government to raise funds, there's no denying that it's a game with extraordinary longevity. But a great deal of has to do with the way in which bingo has reformulated itself to fit in and the technology available at the time.
The modern version of the game was first created in the early 1930s in America. It was the brainchild of a travelling salesman called Edwin Lowe whose work meant that he visited many of the fairs and galas that were held in the mid-western states in the summer months.
Again, and again, he came across a game called "beano" being played. Players were given a stack of beans and a card with numbers on it. As the caller announced each number, any players who had that number on their card put a bean on it. The first person to cover their whole card called out "beano" and scooped the prize.
Lowe saw the chance to make it a much slicker game, and one which would need new cards to be used each time it was played. Instead of beans, he thought pens would be a better way of marking off numbers and he also decided that "bingo" would be a much better name. So, he joined forces with a printer who used the latest technology of the time to automatically print off bingo cards with random numbers printed on them and the game took off across the States, and across the world.
Fast forward to the UK in the 1950s and 60s and there were thousands of bingo halls where millions each week gathered to play and socialise. But by the 1970s and 80s bingo was starting to look like a distinctly old-fashioned sort of leisure activity and many people believed that it was destined to disappear completely.
The online revolution
With the rise of the mobile, bingo players could play anywhere they wanted.
But what they weren't reckoning on was the arrival of the internet in the mid to late 90s. One of the first sectors to recognise its potential was the online casino industry which saw that games like roulette and blackjack could easily be played remotely.
Soon, bingo sites like 888ladies started to emerge that focused mainly on bingo games, with a number of slots as well. At first, these games were available to play on PCs only. But technology was marching on again and in 2007 the first smartphones started appearing.
This represented a giant leap forward as now people could get onto to the internet from virtually anywhere with a wireless internet connection.
This was fantastic news for online bingo players because it meant that they could now start to enjoy all of their favourite games wherever and whenever they wanted to, even if was for a few snatched moments in the middle of a busy day.
The fact that by 2016 more people were accessing the internet via mobile than via PC also meant that the online bingo sites that had been optimised for mobile access were at a distinct advantage.
For the operators this was very good news indeed as many of the features of bingo sites that made them so popular made them naturals for online play:
Appealing to a new demographic
One of the issues of the old-style bingo was that it was seen as quite a staid and boring game. But the new, more technologically advanced, version has managed to draw in many younger players, as well as an increasing number of men.
Choice of games
Even mobile online bingo sites have the capacity to offer players a very wide range of different games including 75 and 90 ball variations as well as many which also use other casino games like roulette to help select the numbers. There are also a number that offer the chance to win truly huge cash prizes through progressive jackpots in which a wide number of games are linked together and their prize funds are combined.
Easy access to play on the go
Perhaps most importantly, and as already touched upon, the fact that bingo is now playable 24/7 from anywhere with an internet connection means that a mobile device is all that's needed to play.
The chance to socialise
The old-style bingo halls were always places that people used to go to get together and this sociability was regarded as an essential part of the fabric of the game. So, the savvy online operators have also included chat rooms on all their sites to create a similar kind of online community. This works particularly well as the mobile device is most people's natural form of communication anyway.
Hassle-free play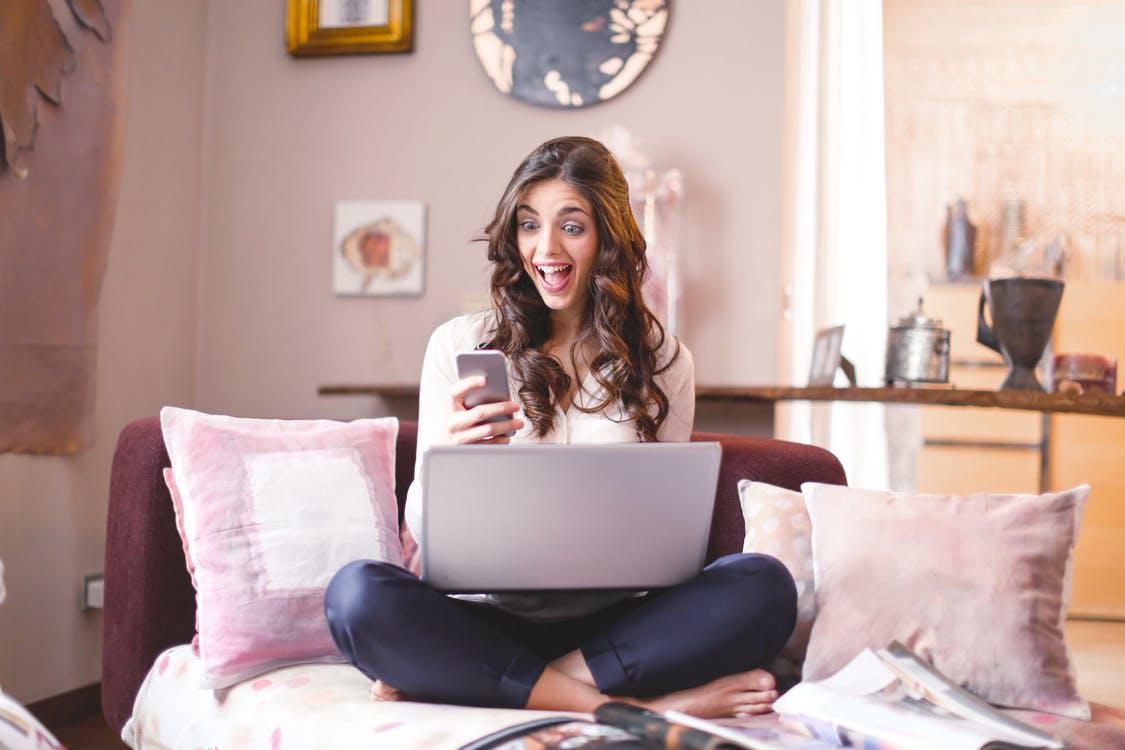 Mobile bingo lets you have all the fun from the comfort of your own home
Last but not least, playing online saves all the hassle of having to get dressed up for a night at the bingo, getting there and then travelling home. Much easier to settle back on the sofa with a drink to enjoy the fun.
So, as you can see, bingo and mobile play are the perfect partners. Future advances like 5G, virtual reality and even AI are set to make it faster and more involving still – and that's got to be great news for online bingo fans everywhere.