Harrogate Grammar School have had reason to celebrate twice in quick succession through outstanding Chinese exam success and Chinese New Year celebrations.
Seven Harrogate Grammar School students have spent the last six months working towards the HSK Chinese Proficiency exams Level 1 and 2, organised by the Business Confucius Institute of Leeds University.
Although these tests are usually aimed at adults, the students worked hard and all passed with flying colours. One student, Finn Leather from year 10, achieved 100% in both the Listening and Reading examinations, with George Kendall (year 13) and Giselle Going (year 11) achieving 98% overall.
Their teacher Richard Barnard praised his students: "It's such a pleasure teaching them because they clearly enjoy learning the language, often giving up their lunchtimes and after school time to study more Chinese. They all did brilliantly, and can now hold a good conversation in Mandarin and understand a lot of daily language. I am very proud of what they have achieved in such a short space of time and I know they will do well in their ongoing studies here at Harrogate Grammar School."
Results of the students' Chinese exams could not have come at a better time, with The Chinese New Year of the Dog welcoming the splendours of The Orient to Harrogate Grammar School. Students, parents and staff were treated to a thoroughly spectacular evening of information, entertainment and interaction courtesy of the Modern Foreign Languages Faculty, The Business Confucius Institute of Leeds University and JinLong Culture & Performing Arts Ltd.
Performances from JinLong included a terrifying face changer, a spectacular lion dance, skillful juggling and a Kung Fu tea party. Also, in the packed programme, was gravity defying plate spinning and an amazing performance using straw hats. Harrogate Grammar School students Hannah Shimwell and Phoebe Kiriakopoulos then stepped into the limelight, singing beautifully in Chinese and showing just how far they have come since starting their Mandarin lessons four years ago.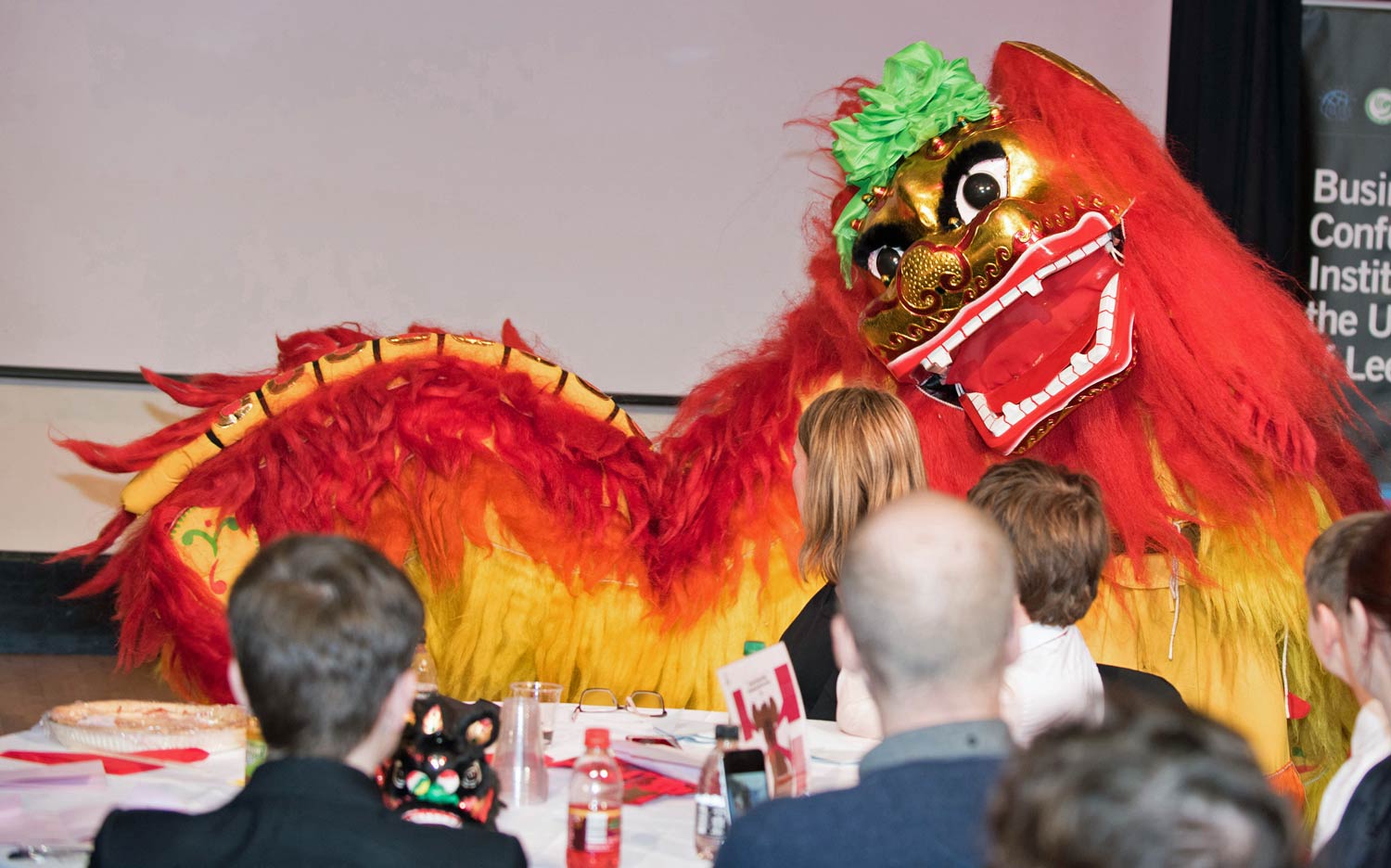 During the event, Giles Blackburne, Executive Director of the Business Confucius Institute at the University of Leeds, talked of the importance of Chinese in the modern world and of the opportunities out there for those who study it. He remarked; "the entertainment was wonderful but I was really impressed with the enthusiasm shown by the students and how knowledgeable they are. We're very proud of what Harroagte Grammar School is doing and also of Richard (Barnard)'s hard work and contribution."
Teacher of Chinese, Richard Barnard spoke movingly about his motivation to move to China, learn the language and start a new life. His incredible tale of humble Holmfirth beginnings to being the star of the small and big screen in China had everyone enthralled.
Audience members enjoyed an interactive online quiz, which saw three lucky guests winning gift vouchers to enjoy a meal at The Royal Baths Chinese Restaurant and Champagne Bar in Harrogate. The restaurant also very kindly donated some of their most beautiful decorations to add a touch of glamour to proceedings.
The evening concluded with a wonderful Chinese buffet, provided by Harrogate Grammar School's very own award winning Catering Team.
Speaking after the event, Adrian Stipetic, Faculty Leader for Modern Foreign Languages at Harrogate Grammar School said, "We held the first of our annual Chinese New Year celebrations four years ago and it was something so new to us and so exciting. Every year it just gets bigger and better. The performances on Thursday were outstanding and all students and guests were treated to a truly incredible cultural event. I'm so proud of the students and staff who contributed to making it such a success."