The Northern Antiques Fair is under-way this weekend at the Harrogate Convention Centre.
The sees a range of antiques from contemporary paintings to 17th century oak furniture, jewellery, silver complement glass and ceramics
Stephen Kalms is exhibiting English silverware.
Stephen said:

The show has already been very successful for us. I think that is down to the catchment and people seem to appreciate the decorative pieces we have.

We have people come to us for a one-off piece or just a spoon to add to a collection.
Mark West is exhibiting many glassware items, including a 16th Century glass bowl from Venice.
Mark said:

When you see an item with such age and quality as this, you can only think about the life it has had. This would have been the largest glass vessel that they could have made at the time and would have likely been owned by a Duke or an Earl. Most people at the time would have owned owned pottery as that was just much more accessible.

The only item I have seen of this quality and age is in the Victoria and Albert Museum.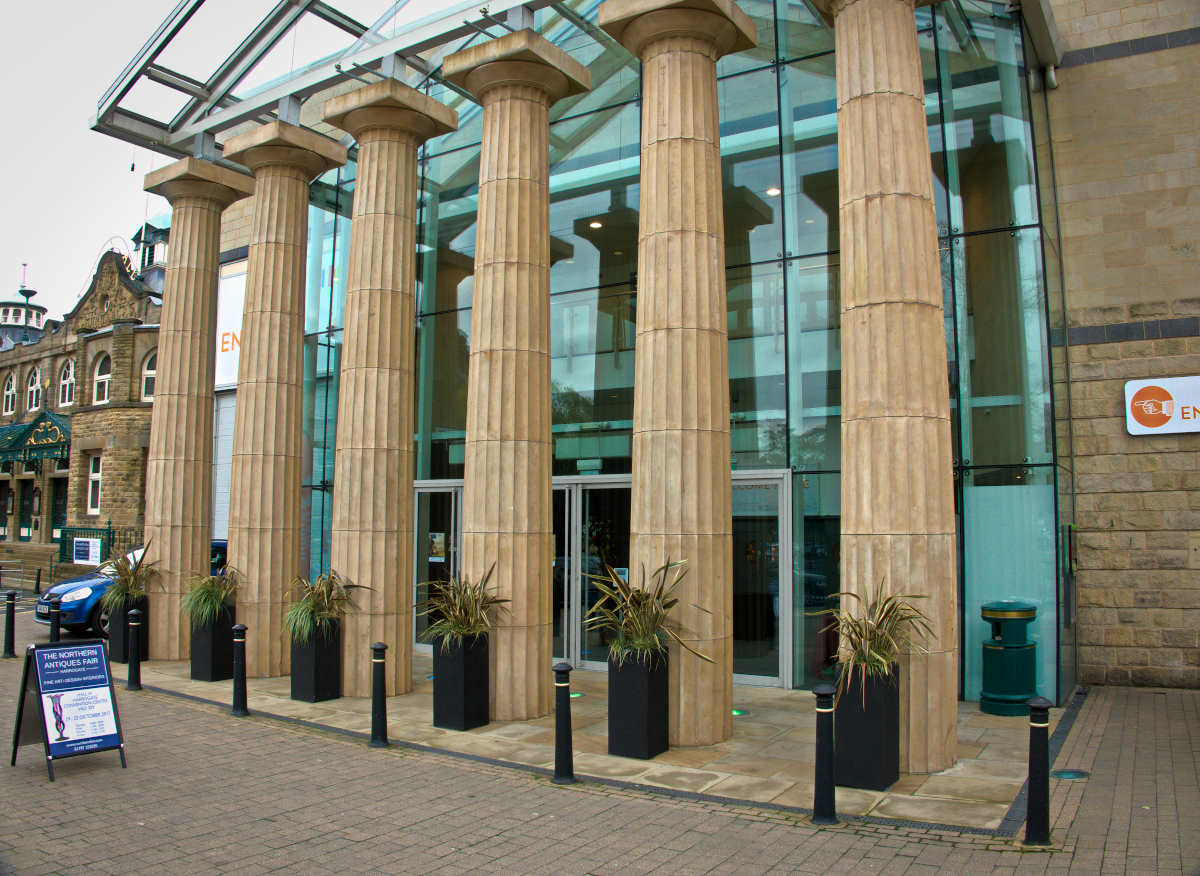 The oldest item at the show is being displayed by William Cook. – the 120 to 200 million year old petrified slice of wood retains its bark.
William has a base in Hungerford and South Carolina.
William Cook said:

I have been coming to Harrogate for the fair for 25 year now -it has always been good for old and new customers.

People seem to like spending and I enjoy a few days in Harrogate!
The Rev Eric Robinson bought a stunning pair of carved terracotta panels, depicting scenes from the early life of Jesus, for Priory Church of the Holy Trinity, Micklegate in York.
The Reverend Eric Robinson said:

We have the perfect place for them in our St Nicholas Chapel.

The subject is very fitting with the children. Hopefully, we can have them up in time for Advent.
Dealer Karen Jones of Somethng Different, said:

For the panels to go to a place of worship is the highest honour. I am extremely happy they are going home.
The panels are probably Italian from the first half of the 19th century.