Emma Stothard's 2-metre Golden Horse looks, most definitely like, a three dimensional horse, not a flat abstract hill figure, like the prehistoric Uffington White Horse on the chalk, which I grew to love from Terry Pratchett's Tiffany Aching novels about a young girl who loved the land, much like Emma. Laughing, Stothard is very thankful of this news. "I would say my work is more figurative than abstract, definitely. I appreciate both." Stothard recently displayed her horse at a lively public setting, the Great Yorkshire Show. She studied her degree at Southampton,  "and then I did Fine Art teaching secondary at Bretton Hall, near where the Yorkshire Sculpture Park is…" It's a college that has since closed, "then I was teaching art, which is what brought me to Whitby for a teaching post…" At the same time, she started working in willow, applying for a Prince's Trust Loan to start her own business, as well as still teaching. "Since I started my business in 2001, it has grown and grown!"
When I was about 8 years old my parents took me to the Yorkshire Sculpture Park to see Sophie Ryder's work. There is a picture where I am stood between two of her sculptures… "Yes! Very monumental. Brilliant. I build life size, but I do sometimes work with miniatures, and scale up to work to a larger size" says Emma, who, at seventeen, visited the Yorkshire Sculpture Park, also viewing Sophie Ryder. "Her work was really inspiring… I remember in my foundation course we went to Paris for a residential trip… I just love Centre Georges Pompidou, that was a very inspiring place to see… Lots of different styles of work."
"I love the land, I've always been influenced by the land. I used to work on farms during the summer holidays whilst I was taking my degree. I like the idea of growing your own material. I found I was using willow, I thought I would have a go at that, so I took myself down to Summerset and spent a summer there and learnt about traditional uses of using willow, like weaving baskets and hurdles. I ended up using natural material that way, using traditional methods in a contemporary way. But drawing, it's all stemmed from drawing. I still draw a lot. I suppose we live in a three-dimensional world and whilst I was at Southampton I started exploring sculpture, shape and form… It's different stages of growing up, and college and teaching… I love animals, I used to ride, I have dogs, and again, working on the farm, surrounded by pigs…" It was a 'natural' progression into sculpture.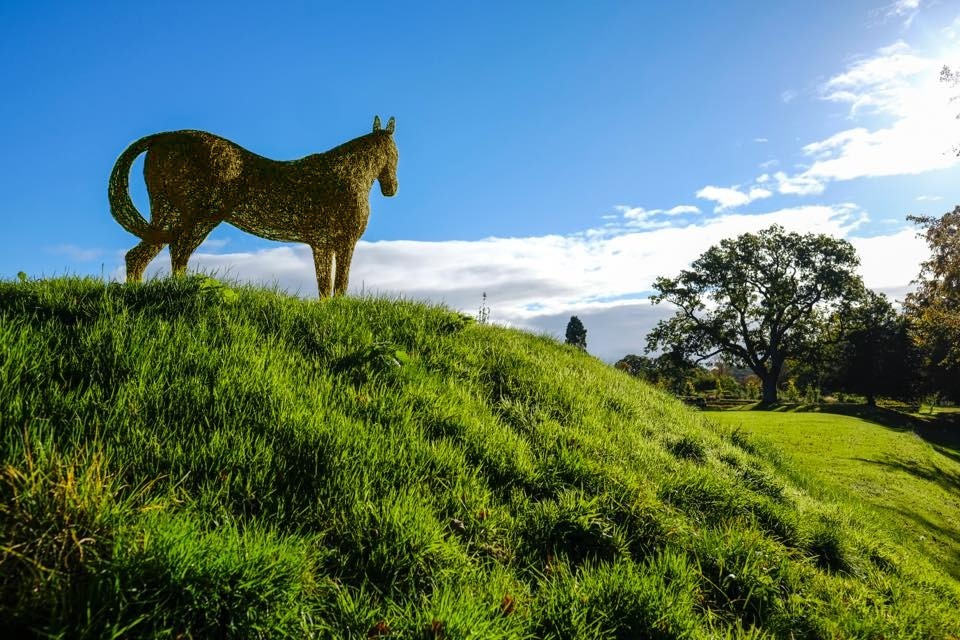 I told Emma that I thought her sculpture omitted very "strong, bold and powerful characteristics", leaving out the word masculine. It has an "aura" about it if you like. The layers and layers of wire help give the horse that depth of presence. Emma was pleased, saying "his" stance communicated this too, saying he was "looking out", putting one in mind of a guardian, a protector of the land, which she so dearly loves. "The material [wire] is quite fluent to use," Emma begins to tell me "It's a very organic, but strong, material… Shiny, glows in the light." I learn the Golden Horse is so named after his characteristics: "When sun rays hit the horse, he shines, he… Twinkles! So we named him 'the Golden Horse'. He must have stood out at this year's RHS Chelsea Flower Show (C.F.S), where Stothard had her first stand: "I wanted to create some strong key pieces, and the horse was once of those."
Stothard is proud of the success she gained from her first trade stand. "Trade stands are marked by stars, we achieved five stars (the highest you can get)! "It was a great opportunity to showcase my sculpture, just like at the Great Yorkshire Show, it took hard work to get there, a team effort!" she said modestly. When I asked Emma how the Great Yorkshire Show treat her, she said "It was a 'Great' experience. Brilliant to have a piece of work on display there, great to get some lovely feedback. It's all good, it's all part of being seen and getting out there. I thank them for the opportunity."
Emma's advice to creative people, young or old, who are starting out was very down to earth "Follow your heart! I mean, if you want to make a living from what you want to do, keep knocking on doors. If you have to have a job at the same time… Do it. But just keep making things and don't give up. You can't suppress something that's there…" Her love of sculpture stems from childhood,) East Yorkshire born Emma Stothard started off drawing, as many children do (myself included). "I've always drawn. I lived near the River Humber, surrounded by the North Sea. I grew up with agriculture…" when feeling lost, she looks to her roots.
"Just go with it. Apply to exhibitions, start a website… Be seen. It's easier I think nowadays with social media… Much easier. It's a help, very useful to put out messages about your work. But yes, just keep painting, drawing, sculpting. Keep at it." Wanting to keep pushing, she doesn't believe it's ever over. We train to get better and better, I can relate to this, within the martial arts, with a Sensei always saying "It's a never ending road to self-improvement" he can never stress enough the importance of developing your skill as a martial artist… There isn't a "top", even when grading for degree black belts, a practitioner holding a black belt will always be a student, ever learning… That's his philosophy. "I agree! Yes. There's just something inside that just pushes me. I understand what you're saying. I might take up martial arts!" she says jokingly, when I offer to recommend her local clubs.
So, Emma Stothard has just exhibited her Golden Horse at the Great Yorkshire Show, but what's next for Emma? Coming up soon, she will be exhibiting Dog Sculptures in Wire and Willow at the Joe Cornish Gallery in North Allerton, as part of Dog Week – a celebration of all things canine. Launching on the 29th of July and finishing on August 26th , Kate Somervell, who will be exhibiting Life on a lead: the dogs of Venice, where the artist, lowering her perspective, brings our attention to the diverse canines of Venice, padding through its piazzas and streets, through her black and white photographs, transporting us to another world. "Kate has photographed dogs in Venice, so I thought I would create dogs in the 3D medium to 'run alongside' them, help bring them to life." For those wishing to attend the preview evening, taking place on Friday 8th September 7:00-8:30pm, all are welcome.
You can also catch Stothard just north of Whitby on the first weekend in September from the 9th-10th at Staithes Arts and Heritage Festival. "it's a small village full of artists!" says an excited Emma, where she will be among another 160 artists in a selling exhibition of artwork, "Its cottages, houses and public spaces will be transformed into galleries to display our work." It sounds like a wonderful way to put Yorkshire artists' work into context. So far Emma has had quite a summer. "What is your favourite season?" I ask her. I notice we keep coming back to nature. "I don't have a favourite season" she replies, "I love springtime, when things start to grow… Warm summer nights, the colours in autumn and the cold, the snow. I love the extremes of the seasons!" Through all of them she loves walking. I for one know where I will be travelling to this summer and coming autumn.