The maddest of tea parties took place at the top of Almscliffe Crag, North Rigton, earlier this week to celebrate the launch of Yorkshire Cancer Research's new fundraising initiative.
The Mad Hatter, the White Rabbit and the Queen of Hearts climbed the iconic Yorkshire landmark to enjoy a good cuppa, some lovely baking and admire the stunning views.
The charity, which funds world-class research, treatment and diagnosis projects throughout the region, is inviting tea lovers across the county to support its work by hosting their own 'Yorkshire teaparty' with the help of their special teaparty pack.
The Queen of Hearts, who had travelled from Make a Wish Entertainment, said:

Not only was it a fabulous location for a very mad teaparty, it was the perfect position to shout out across the whole of Yorkshire and spread the word about this great charity opportunity. We're looking forward to hearing how people throughout the land enjoy their teaparties.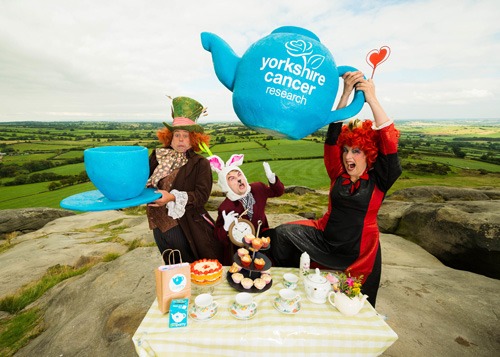 Michelle Riches, Community Fundraiser at Yorkshire Cancer Research, said:

Since Yorkshire Cancer Research is proud to be Yorkshire born and bred we wanted to celebrate one of the great Yorkshire traditions – a well-brewed cup of tea, some delicious baking and a good sociable get together.

Anytime is teatime and you can host your teaparty where ever you choose – even at the top of Almscliffe Crag if you like! Holding a teaparty is a fun way to raise money for Yorkshire Cancer Research and every penny raised will make a huge difference to the research we fund for the benefit of cancer patients within the region and beyond.
Teaparty packs can be requested by calling 01423 501269 or emailing yorkshireteaparty@ycr.org.uk
Visit www.yorkshirecancerresearch.org.uk/yorkshireteaparty for more information.