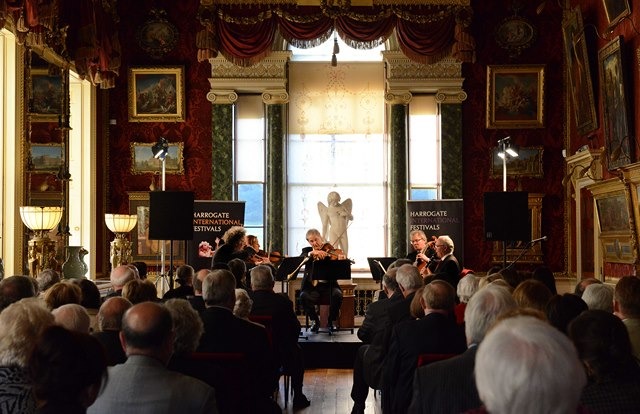 Two of Yorkshire's biggest tourism pulls have joined forces to help put the county firmly on the cultural map.
Harewood House and Harrogate International Festivals have become partners to create a stronger cultural offer for their existing supporters and attract new audiences. The cultural partnership was announced at a special reception at Harewood House.
Attending the launch were Lord and Lady Harewood, with supporters from the business and cultural world, including the Ackrill Media Group, Welcome to Yorkshire, Berwins, Raworths, Marshall Zoing and Barclays Premier Banking. Behram and Anahita Ardeshire represented the Festival's on-going partnership with the Bomanji family, which began in 1966 with Lady Bomanji, an early Chair of the Festival.
As well as its trademark Summer Festival, the burgeoning Raworths Literature and Lecture Series, and successful Theakstons Old Peculier Crime Writing Festival, the north of England's leading arts organisation runs year-round community and education programmes.
CEO of Harrogate International Festivals, Sharon Canavar, said:

Not many people realise Harewood House is an educational charitable trust. Its objectives are similar to the Festivals and so we're very excited to collaborate and deliver bigger and better attractions. We'll be working together to help grow the Harewood and Festivals' portfolio to reach wider audiences, but also to create new, exciting attractions for Yorkshire.
The Festival already partners with businesses and organisations across Yorkshire. The Festivals' portfolio of work is also supported by Harrogate Borough Council and the Arts Council, with events sponsored by a range of local businesses, including The HACs Group, McCormicks and Transdev.
Mike Schafer, Chief Executive of Harewood House Trust adds:

We share a common purpose with the Harrogate International Festivals – to bring new horizons and inspirations through a variety of cultural mediums to the region, entertain an existing audience, and introduce diverse experiences to a new audience.

The Harrogate International Festivals are a chance to showcase all we do well here in Yorkshire, to a national and international audience, as well as locally to Yorkshire. We're delighted to partner this enterprising and innovative organisation and look forward to working together over the summer and into the future.
For more information on the schedule of events and activities at Harewood, visit www.harewood.org/whats-on, or call the Box office on 0113 218 1000. Highlights at this year's Harrogate Festivals include Tim Rice, Michael Palin and Lianne La Havas; for all up-coming events, visit:harrogateinternationalfestivals.com or call the Box Office on 01423 562 303.