The countdown has started to this year's Newby Hall Tractor Fest and local schoolchildren are among those looking forward to the two-day event in Ripon – one of the biggest of its type in the country.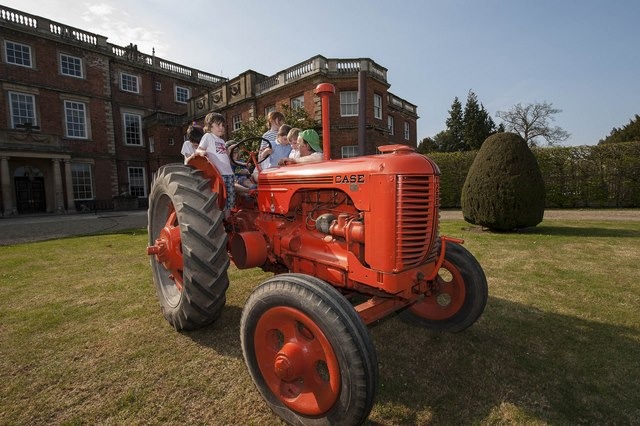 Pictured enjoying themselves on this vintage Case tractor at Newby are, right to left, Harry Smith, Isabel Smith, Clara Scott, Archie Mardon, Reuben Johnson and Charlie Wright.
The tractor is owned by Brian Chester (far right), working steward of the Yorkshire Vintage Association whose members organise the annual Tractor Fest.
This year's event promises to the biggest and best yet with enthusiasts and visitors treated to over 1,000 exhibits including 500 tractors – old and new – as well as cars, trucks, working machinery and stationary barn engines.
Among the rare exhibits will be a Yuba Ball-Tread Crawler – one of only a few left in the world. There will also be a large display of Nuffield tractors, the iconic British brand manufactured by Morris Motors' Wolseley Division.
Also featuring on 8-9 June in the grounds of Newby Hall will be:
· a celebration of '100 Years of Tractors'
· a wide range of vintage steel-wheeled tractors, dating from the earliest days of farm mechanisation
· 'dancing does' – Doe Triple D articulated tractors that perform a dance to demonstrate their manoeuvrability
· interactive exhibits and tractor trailer rides for children
· food stalls and trade stands.
In addition, for the first time in the event's eight-year history, organisers will stage a 'March of the Tractors' from Newby Hall to Ripon market square during the course of the weekend.
A line of tractors and engines will follow a route into Ripon centre where shops, cafes and restaurants will stay open on Saturday evening (8 June) to mark the occasion. The tractors will be sent on their way back to Newby Hall by the Ripon Hornblower at 9pm