Some of the rarest Sushi dishes ever served in North Yorkshire are on the menu at a new restaurant which launched this month (February 2013).
Uni, a type of sea urchin, and Hamachi – a Yellowtail Amberjack – are among rare dishes being served at Kaiten Sushi and Sake Bar which has launched in Harrogate with an initial £150,000 investment and company and commercial property advice from law firm, Barber Titleys.
Kaiten Sushi and Sake Bar, a 35-covers restaurant is a new business partnership between restaurateur, Cindy Cheung and specialist Japanese food chef, Tim Yip, which has initially created three new jobs for kitchen and service staff and aims to take on more.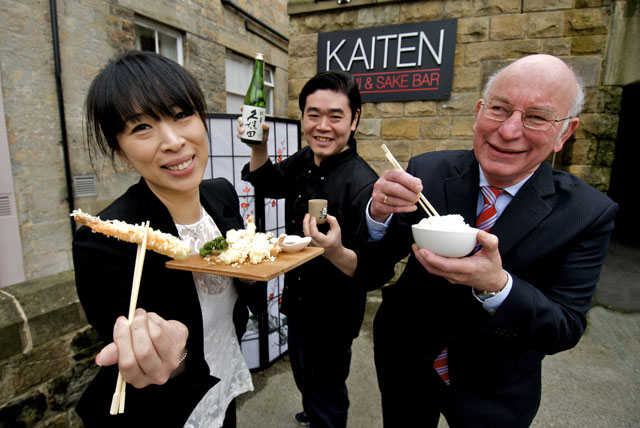 As well as Sushi and a menu of mainstream Japanese dishes, Kaitin Sushi and Sake Bar, which will open six days a week is serving a wide of different Sake drinks and a hard-to-find Japanese vodka.
The new venture has grown from weekly Sushi evenings at Royal Baths Chinese Restaurant, which opened in 2008 and has more than 30 staff and a multi-million pound turnover, and is run by Cindy Cheung and her mother, London restaurateur, Monica Ng and her husband Hak.
Commercial property partner at Barber Titleys, Harrogate, Richard Davis, negotiated the terms of its five-year lease at ground-floor premises for the business in Ripon Road.
Cindy Cheung, who originally trained as a beauty therapist in London, said:

The weekly Sushi evenings at The Royal Baths Chinese Restaurant, which we ran with Tim, were proving so popular that we realized there is demand for a restaurant specialising in this and other Japanese dishes.

We're pleased to be launching and creating jobs. Regular customers who we have told about this venture are excited by what we plan to achieve and, if all goes well, we hope eventually to move to bigger premises. Barber Titleys gave us really good, practical advice and took real care to ensure that we understood everything.
A feature of the restaurant includes a central conveyor which will transport Sushi dishes in a constant loop so diners can see and choose what appeals to them rather than just studying the menu.
Tim Yip said:

The growth is Sushi is part of a trend for ever-more exciting and exotic tastes and greater awareness of the health benefits of raw fish. We source are products daily through a London-based Japanese importer. Some of the Sushi dishes we serve are available in the UK but fish like Uni and Hamachi are very hard to find and will bring a new taste to North Yorkshire for Sushi lovers.
Richard Davis said:

As a tourism, conference and and exhibition centre, Harrogate has a very good reputation for the quality of its hotels, shops and restaurants and we're pleased to have used our legal expertise to add to this by advising on the launch of a new and exiting place to eat.