Harrogate Railway Ladies football team were away today at Hemsworth Ladies and came away with all 3 points winning 2-7.
A good result but it was not a easy game , in the first 5 minutes Railway were on the ropes as Hemsworth pressed hard, forcing some good saves by the Railway Keeper, Emma Prest, and also a off the line clearance from Natasha Martin. Railway held on and found their feet playing out to the right where Hannah Campbell collected the ball took it inside and got her 1st of the day after 11 minutes, 0-1.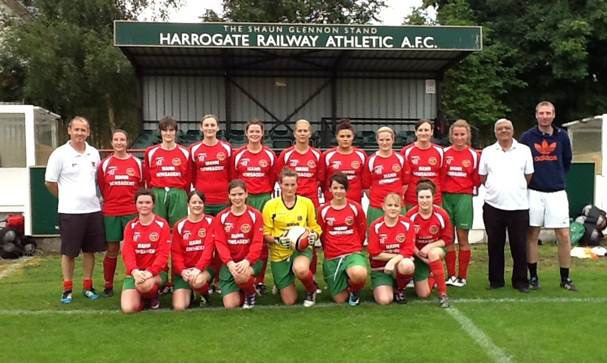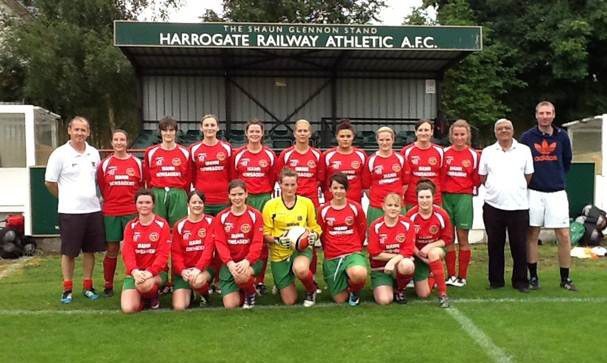 It took only 6 minutes for Hannah to get her second when midfielder Jodi Hodgson put a lovely pass through the middle for Hannah,0-2.
Hemsworth were not going to take these two goals lightly and from the restart they pushed forward and only two minutes later won a penalty for a shove in the back (no arguments there) a well taken penalty put the score 1-2.
It became an end to end game there after with both teams creating chances. Railway came off at half time looking a bit disheartened, but a good chat and with a new formation rail went back out in a better frame of mind.
Dee Swales came on at the break and had a good impact down the right instantly crossing to Hannah who was taken down by the defender, direct free kick given it was Ali Purvis who took the free kick 25yrds out and put the ball in the top left corner,1-3.
From the left side Leah Mercer supplied the cross that found Hannah yet again, and as she entered the box was taken down again, penalty for Railway, Hannah steps up and puts it in the low left corner on 53 minutes, 1-4.
Railway were now looking like a team going for the kill and on the 55th minute Nicola Hadley got off a fine half volley on the edge of the box to make it 1-5.
Hemsworth never gave up and did create some good chances for themselves but were unable to hit the target. With more pressure on the Hemsworth defence railway got another corner which Ali Purvis took and she curled the ball into the front near post for her second and rails 6th, 1-6.Hemsworth came back at Railway and got their just reward on the 80th minute bagging there second, 2-6.
It was Hannah who finished off the scoring on the 85th minute making the final score 2-7 to Railway.
Next week the Railway Ladies are at home to Brighouse 2pm KO at Station View.