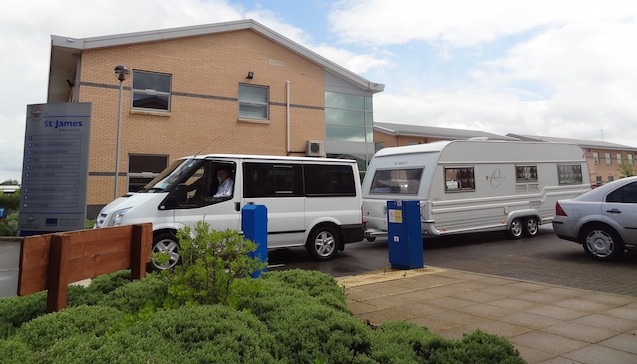 Travellers were evicted this morning (6 June 2012)  from the St James' business park in Knaresborough.
The eviction took place with the assistance of the High Court Enforcement Officers at Gaunts working closely with Harrogate Borough Council and North Yorkshire Police. An eviction notice was served on them at 11am, giving them until midday to move on. In the end the Travellers went voluntarily although tow trucks were on hand if required.
Chris Newton from Newtons Solicitors said:

The travellers arrived Saturday evening (2 June) taking up residence in the carpark used by many of the businesses. There were immediate problems with rubbish and human faeces, witnessed in broad daylight. I asked them to leave and was met with insults and abuse. They then threatened to "key" any cars which parked in our car park today. This was simply unacceptable and was reported to the police. I also instructed the High Court Enforcement Officer.
After confronting the travellers over the weekend, office workers at Newtons were greeted to a bunch of flowers by their front door, considered to be an attempt at intimidation as an RIP gesture
The travellers had parked around 7 caravans and camper vans in front of the businesses, often directly in front of the main entrances to the offices.
After leaving the St James Business Park site at midday, the travellers initially tried to gain access to a car park within 100metres but the owner, ALM had locked the gate. A heated debate took place in which the traveller told the owner he would be back later with 15 caravans and would cut the lock.
They then parked in the Matalan carpark but were moved on again.
Chris Newton added:

We are obviously very relieved that they have now moved on. This has been a very tense and stressful weekend but I've received fantastic support from the local businesses who have all pulled together and offered everything from moral, practical and financial support. I would also like to thank the much needed support that I received from Gaunts, Harrogate Borough Council and North Yorkshire Police. Finally I would also like to thank the support that I received from Selby and Ainsty MP Nigel Adams, who stressed to the police that they would receive total political support dealing with this common problem.
Police warned that the travellers are still in the area and warned local businesses to be extra vigilant keeping their sites secure.