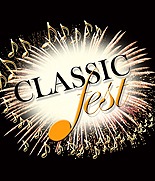 ClassicFest, created by the organisers of Buxton's popular International Gilbert & Sullivan Festival, will include opera, oratoria, operetta, musical theatre and pop.
THE MIKADO
The Gilbert & Sullivan Opera Company
Monday 27 August 2.30 pm and 7.30 pm
Royal Hall, Harrogate
The Mikado is the most frequently performed and most popular of all the G&S operas.  Set in the town of Titipu, this hilarious production pokes delicious fun at politics and politicians and its bountiful score and witty lyrics never fail to amuse.  Including all-time favourites such as Tit Willow, Three Little Maids, I've Got a List, A Wand'ring Minstrel I, Let the Punishment Fit the Crime and The Flowers that Bloom in the Spring, The Mikado is simply a joy.
The Gilbert & Sullivan Opera Company are renowned for producing simply the best G&S to be seen anywhere in the world and this brand new production will certainly be a wonderful evening's entertainment.  The professional cast includes Simon Butteriss as Ko-Ko, Oliver White as Nanki-Poo, Simon Masterton-Smith as The Mikado, Bruce Graham as Pooh-Bah, Sylvia Clarke as Katisha, and Annette Wardell as Yum-Yum.