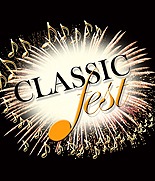 ClassicFest, created by the organisers of Buxton's popular International Gilbert & Sullivan Festival, will include opera, oratoria, operetta, musical theatre and pop.
North West Productions
Tuesday 21 August 7.30pm
Harrogate Theatre
This delightful Edwardian comedy is about Prudence, a Quaker Girl who escapes from the dullness of her life in an English village to sample the high life of Paris. Performed by students of Liverpool Theatre School and College this will certainly be an original and lively production. So, "Come to the Ball" and enjoy a wonderful evening's entertainment.