An ex-pupil from Harrogate Ladies' College (HLC) recently visited St James's Palace to receive a Duke of Edinburgh (DofE) Gold Award, presented by HRH The Duke of Edinburgh.
Hannah Lowther received the accolade after committing time to various personal development activities whilst studying at HLC. Fulfilling judging criteria across physical, volunteer, skill, residential and expedition categories Hannah took on a range of tasks, from coaching younger pupils in lacrosse, to walking the length of the Yorkshire Dales with her team during a four day expedition.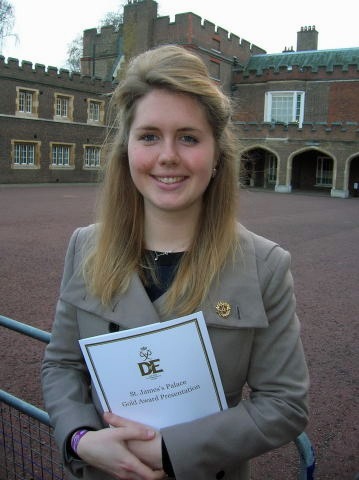 Hannah also undertook a shared activity in a residential setting which consisted of a five day task involving four nights away from home.
Ex-HLC pupil, Hannah Lowther said:
It was a great honour to receive the DofE Gold Award. A lot of hard work went into each task and completing them was at times challenging. The DofE programme has certainly developed my self-esteem and confidence.
HLC Headmistress, Rhiannon Wilkinson said: 
Hannah's DofE Gold Award showcases her persistence, commitment and tenacity when working through the bronze and silver levels to reach gold. We are very proud of her at HLC and glad that she was able to complete the award during her time at the School.